Saint Joseph is a city located on the Missouri River. It also has plenty of parks. If you're a fan of the geography of this amazing city, then we've got good news for you. You can extend that outdoor beauty into your apartment as well! To create a rustic vibe, it really helps to live in a rustic setting, and thankfully there are many Saint Joe apartments to choose from!
A View of Nature
When you live close to nature, making that transition from outside to inside becomes a lot easier. Even if your apartment isn't right smack dab in the middle of a rustic place, just having a view of it from your apartment window qualifies. A rustic interior will definitely work in this case. With both the view and the décor ideas listed below, you'll definitely be enjoying that rustic vibe.
What Is Rustic Design?
Rustic has become somewhat of a catch-all phrase. So, does it mean creating a log-style cabin design, or can the word be applied more flexibly? Thankfully it's the latter, but many different elements really do come across as rustic. Here's what you need to know:
Rustic Encompasses Multiple Design Styles
Rustic is a broad term with many kinds of design styles falling into it. We can boil down the definition into a few different words: casual, natural, aged, and rough. Many other design styles can be described by these words. Some styles that could also be called rustic include cottage, lodge, Tuscan, and coastal.
1. Emphasis Is Put On the Natural
Natural materials are almost always used for creating a rustic vibe in Saint Joe apartments. This entails using plenty of stone and wood (in walls, furniture, and the ceiling) and fabrics such as canvas and burlap.
Part of that rustic vibe isn't just what you see but what you feel as well. It has its own feel that isn't shiny or smooth. The feel should include soft animal skins, coarse hand-knit blankets, and a raw stone fireplace.
A rustic design should be natural, simple, and give off an earthy vibe. The usage of raw materials is also common, meaning you won't use sleek and glossy burl wood.  
And speaking of wood, it should be in almost everything. Think wooden ceiling beams, unfinished floors, wooden wall siding, etc. Don't worry about having an exposed beam. This is actually a good thing to have if you want a rustic vibe in your apartment.
Also, try not to be a perfectionist if this is your preferred style. Knots in the wood are fine. Embrace the imperfect.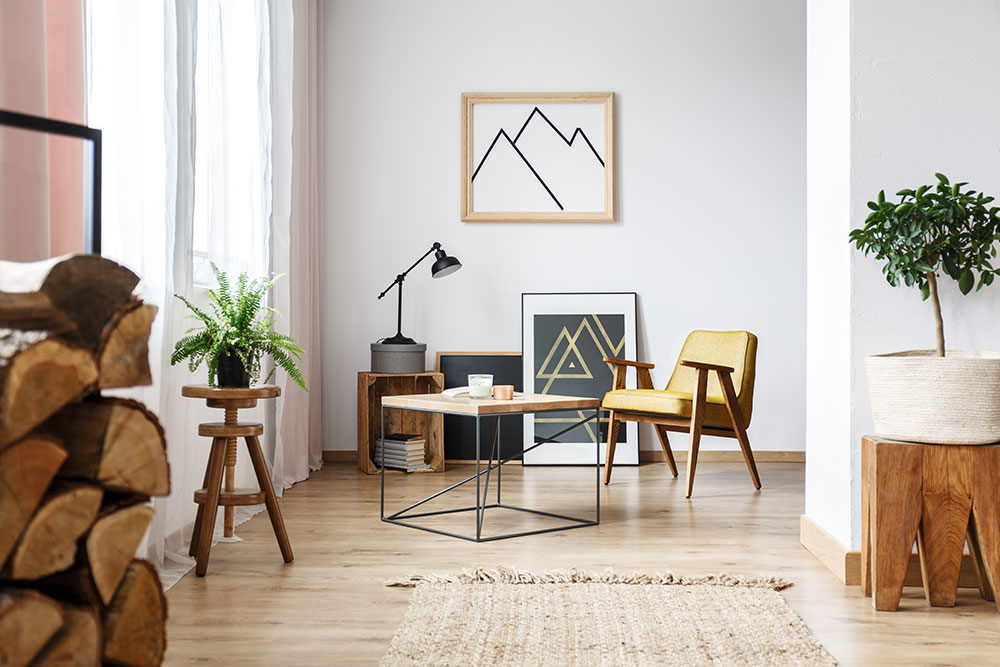 2. Modern and Contemporary Rustic Are Two Different Styles
Modern design and natural design are practically two diametrically opposed styles. You won't be using modern furnishings or flashy lighting. You'll also leave out modern materials like synthetic fibers, metal, and plastics.
However, modern manifests itself here in a different way that's known as contemporary rustic. With this offshoot of rustic design, the earthy elements of rustic are combined with modern's clean-lined style. The result is an aesthetic that's quite light, fresh, and grounded.
Rustic alone tends to come across as darker, heavier, and less sparse. So when you combine rustic with modern, the result is a lighter and more open style that still remains very natural.
Some tips for contemporary rustic are using accent chairs, logs, and side tables. These will provide a touch of rustic that may be enough to give you that vibe you're looking for without feeling like you've gone too far with it.
3. For Rustic Furniture, Go With Handmade
This is in line with the natural theme of rustic design. The design of rustic furniture is usually simple because it's the materials themselves that are meant to impress. Rustic furniture is typically large in size (so minimalism doesn't work here) and made to feel comfortable and cozy. Also, heavy wooden furniture consisting of stone, boards, and raw logs is often used.
The high cost of handmade furniture can be quite off-putting. But keep in mind that you're paying for superior quality compared to big-box stores. So it's worth the investment.
Also, you don't have to buy anything brand new. The local consignment or thrift store may have what you need at a fraction of the cost.
4. Use a Natural Color Palette
Unsurprisingly, you'll want to use a mainly neutral color palette. However, bold colors can still be used so long as you stick with earthy tones. Commonly used colors include grays, greens, and browns, and these colors convey warmth. That way, your apartment won't feel too stark and cold.
5. Grittiness Goes a Long Way
Roughness is another aspect of rustic style fabrics and furniture. However, the style has inherent imperfections since the materials often consist of stone and raw wood. But the overall tone will look unique and interesting enough since the natural materials will vary in color, shape, and texture. Additionally, the pieces should look like they've been weathered by the elements a bit. Therefore, driftwood and reclaimed wood will work well to create a rustic vibe in Saint Joe apartments. And when it comes to textiles, don't use sheen, instead use raw fabrics like animal hides and jute.
How to Create a Rustic Vibe
A rustic vibe is defined by how warm and welcoming it is. Creating warmth means using warm colors as well as creating an inviting and comfortable atmosphere. A huge fireplace should be the centerpiece of the living room. And although everything will feel a bit raw, the warmer colors along with the textures in the rugs and woven baskets plus the natural textiles will ensure that your apartment feels just like home.
However, you don't have to go that far to create a nice rustic vibe. An element of surprise can make your design look and feel top-notch. So, feel free to incorporate rustic design elements into your preferred style, so long as they're measured and precise.