Are you thinking about living in St Joseph, Missouri? Living in St. Joseph offers many things to do for those who love adventure and exploration. Especially in the downtown area, where you can easily access many of the best places that St. Joseph has to offer. There are also many St. Joe apartments in the downtown area.
The city of St. Joseph, or St. Joe as it's widely called, is famous for many things. One of those things is being the place where the Pony Express first began. It's also the place where the infamous outlaw Jesse James met his end.
St. Joe is also home to the following major attractions:
       

the base for the Kansas City Chiefs Training Camp

       

Award-winning architecture

       

A dozen yearly festivals

       

13 unique museums

       

Outdoor concerts

       

Twenty-six miles of scenic parkway

       

Nearly 50 parks
Let's talk about these places in more detail.
Fredrick Inn Steakhouse
This is perhaps St. Joe's finest steakhouse. It has been a part of the community for over 34 years. It even got the "Beef Backer Hall of Fame" Prize. They serve the following:
-slow-roasted prime rib au jus
-ribeyes
-hand-cut filet mignon
-top sirloins
-Kansas City strips
They also have a buffet-style soup and salad bar and homemade dinner rolls and sweet rolls.
Patee House Museum
This museum is considered a national historic landmark. It is a museum of communications and transportations. It was originally built as a hotel but has been used over the years as a shirt factory, hotel, and girl's college. It was even used as the Pony Express headquarters in 1860.
East Hills Mall
This mall is considered one of the best places to experience shopping and dining in northwest Missouri. It first came into the business in 1965 and is host to stores like Dillard's and Gordmans, among others. There are many, many other stores as well. There is also a central food court where there are several different dining options.
Beattie Mansion
This mansion is often fondly referred to as "House on the Hill." This house/mansion is a truly amazing building with a very rich history. It was built by Eliza and Armstrong Beattie in 1854. In 1878, Armstrong suddenly died in the mansion from a "bout of cholera." Eliza died shortly later, in 1880. The house is now said to be haunted and has been used for many different purposes over the years…
Glore Psychiatric Museum
This is one of the most unique museums in the country, with truly intriguing exhibits. This museum has also been covered by several different TV networks, including the Science Channel, Discovery Channel, and more.
Pony Express Museum
The Pony Express began in 1860 and was a network of riders who delivered mail, newspapers, and messages in the US. This museum includes exhibits, stories, and a 60-feet exhibit scene showcasing the diverse terrain embarked upon by the Pony Express.
Krug Park
This more than 160-acre park is often referred to as St. Joseph's oldest park. It has sprawling and colorful flower beds, beautiful landscaping, and more things to discover. There are picnic areas, walking trails, a playground, and many more big attractions.
Schweizer Orchards
Located in the bluffs overlooking the Missouri River, Schweizer Orchards produce and package delicious River Bend Apples. They've been doing so for over 4 generations, as well as giving reliable services to the public. They serve both the retail market and the city of St. Joseph. They also stock several delicious treats, and visitors can even pick their own fruit.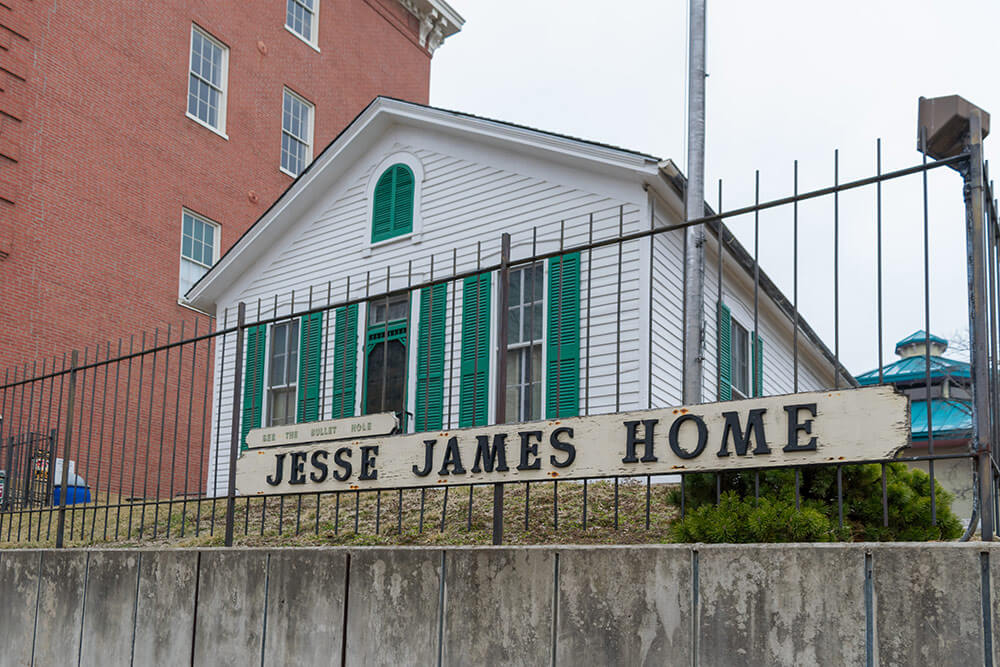 Jesse James Home Museum
The outlaw Jesse James lived here in 1882 when he was shot and killed by Robert Ford. The Museum is actually a one-story home that to this day contains many of James's possessions. You'll find exhibits that include coffin handles, photographs, and a bullet belonging to Jesse James.
Barbosa's Castillo
This family-owned and operated restaurant has been serving St. Joe residents since 1960. They are well known for their tacos, chips (made with homemade flour), and red pork chili – all freshly made every day. This restaurant has also been awarded as the best place to get Mexican food for several years. They also receive the "best place for tacos" award each year from the St. Joe News-Press Readers' Choice Awards.
Based in downtown St. Joe, this restaurant has a nice rooftop area for dining, and the ambiance there can't be beaten. They also have many different drinks to suit every kind of palate.
Missouri Theatre
The Missouri Theatre first began operations in 1927. The main exhibit at the time was Rough House Rosie. The theater had a one-of-a-kind structure, which is why in 1979, it was included in the US National Register of Historic Places.
Robidoux Row Museum
This museum is essentially a series of living quarters used by the pioneers during the westward expansion in the 1840s. This place was built by Joseph Robidoux, who also founded the Blacksnake Hills Trading Post, which later became the town of St. Joseph.
Albrecht-Kemper Museum of Art
This place is a cultural hub of art in Northwest Missouri. It has some of the best American art collections from the 18th century to the present time. This building used to be the home of William Albrecht. It includes famous works from artists such as Marry Cassatt, Albert Bierstadt, Thomas Hart Benton, and Gilbert Stuart.
Lovers Lane
Eugene Field wrote the famous "Lovers Lane, Saint Jo" poem, which described the gorgeous street Lovers Lane. Today though, the street is full of upscale houses, but the funny thing is that it used to be just a remote country road. At an intersection of Lovers Lane and Northwest Parkway, you can find a statue of the famous poet himself.