Does your apartment space limit your creative flair and movement? Are you feeling a bit claustrophobic or like you're living in a box? It can be tough decorating a small space to make it homey and attractive, but don't let the cramped space intimidate you. Instead, let these modern and efficient decorating ideas make your Saint Joe Apartments look and feel like that little piece of heaven you can call home.
1. Spice It Up With Floating Shelves
Your living room or other parts of the apartment, like the bedrooms and the study area, could be more organized and show off your personality using floating shelves. 
You can show off your prized collectibles or other decorative pieces. Using either metal or wood shelves will pretty much complement anything that you would want to showcase on your shelves. Floating shelves are also great for maximizing small spaces.
2. Use Light Hues
Using colors to create an illusion of open space is very effective, especially if you have a small apartment. You have to make do with what you have – and it all starts with using the right color palette.
While most people would choose a color scheme based on their favorite or preferred colors, small apartments would greatly benefit from light, soft pastel, or barely-there colors like white, beige, or off-white as it can make your cramped space look bigger.  
You can use soft or muted pastel colors like green, pink, blue, or coral that will help you inject your favorite colors into your space. Using light colors creates that clean and crisp ambiance that you will find cozy and aesthetically pleasing, especially if you have guests around.
3. Maximize Your Kitchen Space
Small apartments would predictably have tiny kitchens, and it's such a disappointment, mainly because it's the busiest part of your apartment where you cook or prepare meals. With that in mind, you can focus on taking advantage of the vertical space. Use the space for storage or shelves that can help you keep it clean and clutter-free.
4. Invest in Good Lighting
It's the small details that can make or break the look of your Saint Joe Apartments – like good lighting. Breathe new life into your apartment and make it look more expansive with good lighting.  
Some people tend to underestimate the benefits of investing in lamps or plug-in lighting that you can place on side tables, hallways, and all other critical parts of your apartment that can improve your home's overall visibility and aesthetic appeal.
5. Use Multipurpose Furniture or Storage Boxes
Multipurpose furniture, hampers, ottomans, coffee tables, or storage boxes are built for form and function. It's a decorative piece, but it has more perks or advantages because it also serves as storage space for your other items like toys, extra linens, books, crafts, or other stuff that you need to be kept away after use. 
It's very functional and can get rid of nasty visual clutter but also works as a stunning decorative element for your small apartment, especially if you choose elaborate designs or palettes to go with it.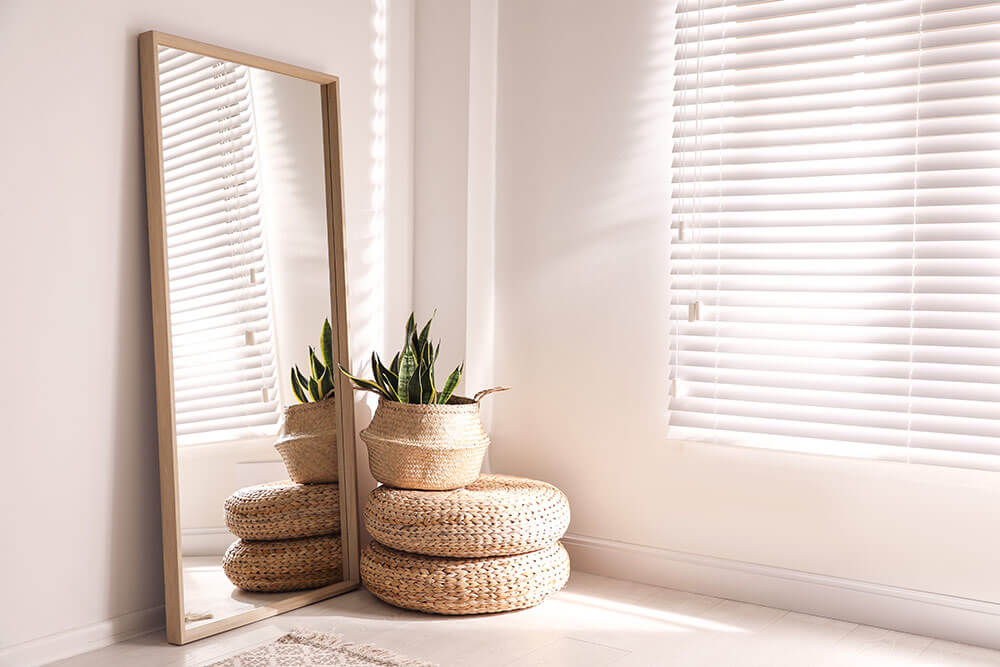 6. Place Oversized Wall Mirrors
Using large or oversized wall mirrors on your small apartment can quickly create an illusion of space and depth because of its reflection. Expand limited spaces in your living room, hallways, or other parts of the apartment with the use of large mirrors that beautifully reflect natural light into your haven. 
You can also use different shapes or types of mirrors in your apartment to help you when you're checking your wardrobe or makeup. And when placed near the sun, they will help keep the space well-lit
7. Use a Smaller-Sized Sofa
Your small space shouldn't look crowded with that bulky or oversized sofa. To enhance visual appeal, it is recommended to use small sofas with low height or backrest to save space and make your rooms look cohesive. 
You can also use daybeds or multifunctional sofa beds that you can convert from sofa to bed if you have guests around. You might also want to feel cozy and comfortable while reading a book or watching a Netflix series.
8. Use Wider and Longer Curtains
Use longer and wider curtains for your living room and bedrooms to easily increase your apartment's height and visual space. This trick can easily make smaller Saint Joe Apartments look bigger than their actual size.
Choose the proper length that is longer or wider than the regular size of your traditional curtains. Additionally, use colors that complement your walls and also reveal more of your personality.
9. Select Rug Colors That Match the Floor
When decorating a small space, less is always more. Choosing a rug can be tedious, mainly because you would be bombarded with many options, but keeping the rug's color and texture simple is best. Oriental rugs are dramatic and bold, but they're not suited for small spaces. 
Keeping the rug colors subtle and neutral would be the best way to go. The rug should complement the floor or be discarded entirely. It's not advisable to have too many patterns or designs on your carpets because it would look too distracting. Instead, keep the rugs minimalist or solid in color to dramatically expand your space.
10. Add Layers and Contrasts
Micro-living requires furniture and decors that complement the space of your apartment. When you decorate small flats, you need to add functional pieces that you can use now and in the future. Stay minimal, but you can add layers and contrasts of the same element in different patterns, shapes, or materials like throw pillows, rugs, or boxes to add depth to a small space.
Play Around With Design but Stay Minimalist
When adding furniture or decorative pieces to Saint Joe Apartments, it's always wise to keep it low-key. Don't be afraid to show your true colors and keep it simple, clean, and organized. That way, everything looks fluid and seamless when meshed together. 
Decorating small spaces can be challenging because you should be selective with decorative elements. However, you don't need to over-think them. Remember to stick to your budget, keep things hassle-free as much as possible, and most importantly – have fun while you're at it!