The loft style is a truly unique aesthetic that gives a timeless sense of style to your home. With the rise in popularity of the loft style in recent years, now is a great time to bring that sense of style into your own home. 
Here at AE Lofts, our loft apartments for rent give you that historic, authentic loft experience that you're looking for with all of the modern comforts. Our exposed brickwork and high lofted ceilings paired with smart home technology make for a unique experience that only AE Lofts can provide. 
1.) Stick with an open concept.
We are so used to having closed off rooms and spaces that having an open concept is something that takes a bit of getting used to. However, searching for that open concept floor plan will not only make your apartment feel roomier and brighter, it also lends itself to the urban feel that lofts meld so well with. 
Lofts can often be smaller apartments and can feel cramped, so creating more of an open concept can make a small space feel much more roomy and spacious. Even if your loft does not come open concept out of the gate, carefully choose your decorations and furniture to give it an open feeling. 
2.) Leave floors, ducts, and more exposed.
While this is likely something that only your apartment complex has control over, leaving the brickwork, concrete, or ductwork exposed in your loft gives it that truly urban feeling. Because lofts are most often created from old industrial buildings, the unfinished aesthetic is what really makes a loft unique. 
If you live in a more established kind of apartment, this brickwork might not be visible. However, if your apartment allows you to, you might be able to do things like remove the plaster on the walls to reveal any of the brickwork that might be hidden behind the drywall. Or, if your apartment doesn't allow you to do as much, there are other solutions to creating a faux brick wall. 
3.) Mix and match your furniture. 
The urban loft feeling depends on having a lot of character, and that character can easily come from a set of mismatched furniture. Do you have an old hand-me-down couch from your parents, a brand new chair, and an ottoman that you found from a thrift store? Perfect! The mismatched furniture vibe is perfect for a more urban feel in your loft.
A mismatched kitchen table and chairs is a perfect backdrop for parties, get-togethers, or even just enjoying the colorful chaos that loft living is so known for. If you've ever wanted to have rainbow-colored chairs, then decorating your loft is the time to do it!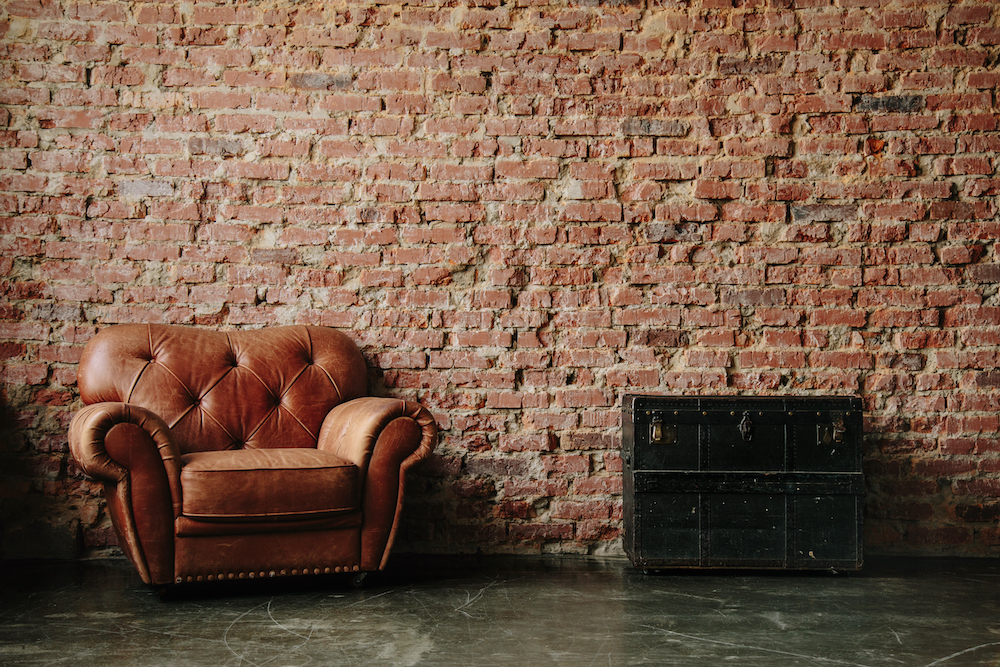 4.) Turn your furniture and decorations into storage. 
While the mismatched furniture vibe is incredible for the loft apartment, it's also important to remember that furniture makes for great storage. If you want to keep your walls clear, then you should invest in some hidden storage. 
Couches, ottomans, and more make for great hidden hideaways to clear up some of the clutter. Plus, some of your storage can be made into cute and exciting decorations! With a little creativity, picture frames, mirrors, and more can be made into storage solutions that don't take away from the aesthetic of the loft. And don't be afraid to make some of the items you need to store into decorations themselves! Displaying cute hats, scarves, necklaces, or other trinkets on the wall is a great way to maximize your storage without getting rid of that loft apartment vibe. 
5.) Bring a little of the outside in. 
Everyone loves the feeling of walking outside among the plants and flowers, and that can sometimes be difficult when you're living in one of the loft apartments for rent in a large city. You can feel disconnected from nature when you're surrounded by massive brick buildings and concrete. 
If you're like many others and miss being able to see all of the greenery from your apartment, then bring some of the outside in! Plants make any apartment feel bigger, brighter, and more inviting. Bringing in some small water features too, like miniature bubbling fountains or other small water accessories can really tie in the nature theme. It's like bringing a little of nature into your loft to counteract all of the industrial aesthetics, making it feel more warm and homey. 
6.) Create a gallery wall. 
Gallery walls are an important consideration when deciding how to decorate your loft. With a loft's high ceilings and massive windows, you need something to take up some of that tall space that can't necessarily be reached by other furniture or design choices. 
That's where creating a gallery wall comes in. Using a gallery wall to offset some of that negative space can give your loft a more modern but still urban feeling, especially if you do an eclectic mix of more historial art against the juxtaposition of modern art. It can definitely make for a striking picture when set against an exposed brick wall. Don't worry about the aesthetic with the rest of your furniture, either! A gallery wall is going to look nice no matter the composition of the rest of the room, so hang your artwork to your heart's content. 
AE Lofts
Here at AE Lofts, we give you that timeless loft feeling with a modern twist. Our updated appliances, sleek lines, and open concept floor plans lend to a feeling that you're going to want to live in. Our loft apartments for rent are somewhere that you're going to want to be, to give your own spin on your space, whether it's a more urban feel or a traditional mix of styles. We encourage you to do what you want to do, and to make our lofts here really feel like home. 
If you're interested in seeing for yourself what our historic – yet modern – loft apartments for rent are like, contact us and schedule a tour today!