For many people, the living room is the heart of the home. It's where you invite friends over for movies and popcorn, play board games, and, in the time of COVID-19, maybe even acted as your office. 
Spending so much time in a single room of your home can often be overwhelming and mundane. And, with the seasons changing, it's the perfect time to give your living room at the apartments in St. Joe, MO a bit of a refresh, whether you're staying in your current home or looking for a new downtown apartment to rent. 
The biggest hurdle for many, though, is being able to pay for everything. Wanting to give your living room a facelift can be a little pricey if you aren't careful: but that's where we come in. Are you looking for a budget friendly way to kickstart your new design? Look no further! Here are some tips to get designing:
1. Plants, plants, plants. 
One of the easiest – and most cost effective – ways of sprucing up your living space is the addition of plants. If you're a big plant person, feel free to go to your plant or seed store and scope out what they've got to offer. There could be something that you hadn't considered before to spruce up your apartment! Or, if you're looking to be more cost-effective, a small eucalyptus or aloe plant at your local grocery store could be just the thing. 
If you're one of those people that doesn't have a green thumb, though, then go with a fake plant option. You might have to be a bit more vigilant in keeping them clean, because they can often collect dust, but at least you don't have to constantly water them! And, if you have pets, a fake plant is always going to be the safer option – just in case. 
The best part about using plants to give your living room a new vibe is that you can use what you've got. If you're wanting a more spring feeling, or if you're all about the fall vibes, you could use tall, thin and flowering branches from your own backyard in vases around the living room. Or, if you're in a downtown apartment for rent, you could check your local park for fallen branches. You might find just the thing to give your apartment the perk it's looking for.
2. Mix things up!

What do you do if you've already got plenty of plants, though? Switch up the vases! There are only so many boring, plain terra cotta pots that your apartment can take if you're looking to spruce it up. Check online and in thrift stores and local craft markets for some new pots for your plants and flowers. If you're feeling particularly crafty, you might even want to paint a couple of those pots yourself. Changing your pots is an easy – and cheap – way to add a bit more color and variety to the decorations in your downtown apartment for rent. 
3. Give your downtown apartment a spring cleaning.
With a little bit of elbow grease, some bleach or other cleaner, and a little time, a good cleaning can add some new life into the apartments in St. Joe, MO. Sometimes we don't even realize when the things around us get a little – well – dingy. Little by little, things like your couch, your carpet or rugs, or even your walls can get dingy without you even realizing it. 
If you don't do things like regularly steam clean your sofa or scrub down your walls, taking a little time and effort to do so can completely transform your space, making it feel warmer, brighter, and cleaner. Plus, who doesn't love the smell of fresh laundry or lemon-scented Pine-Sol? It just feels clean, and can add a missing element to your apartment or home.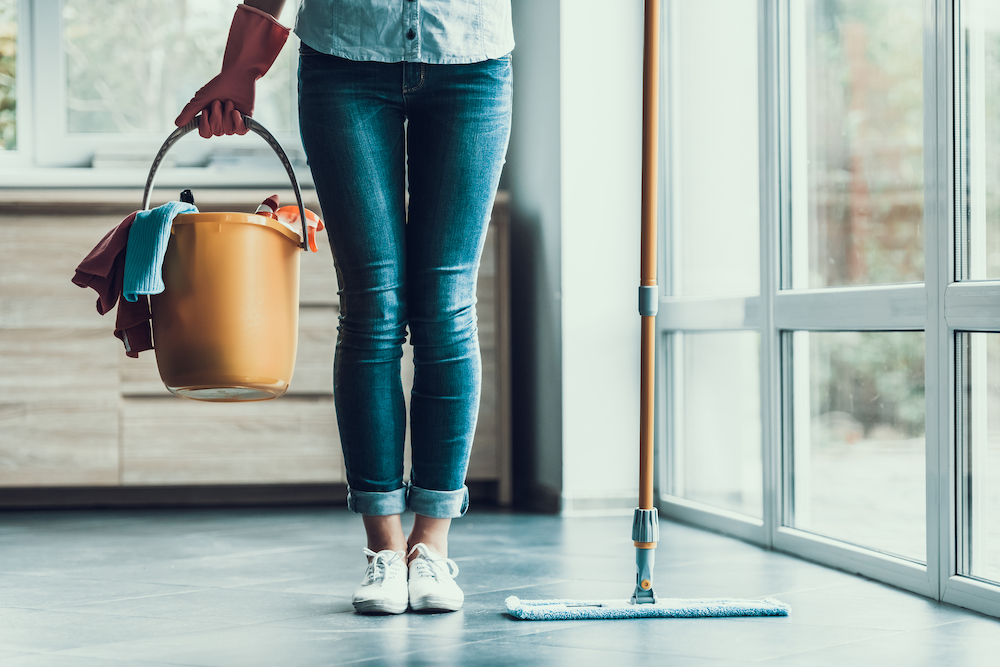 4. Freshen things up with paint
Putting a new coat of paint on most anything can give it the update it needs, and your living room is no exception. You'd be amazed at what a new coat of paint can do to give your living room an entirely new feeling. Whether you're choosing to paint it the same color to simply cover up any dents or dings, or you want to give it an entirely new look, paint is an easy – and affordable – way to dramatically change the look of your home or apartment. 
If your apartment complex doesn't allow you to paint, or if you're not quite up to that kind of commitment, then there are renter friendly options for you too. Removable wallpaper is a cost-effective and renter friendly option to spruce up the look of your room or add an accent wall without the commitment. 
And, while paint probably isn't the best to put on things like counters, contact paper is a good option with the same kind of effect. Do you have a tabletop or a cabinet in your living room that you think could use a change, but don't feel up to painting the whole thing? Contact paper is your friend! With different options like bright colors, a marbled effect, or even a rustic vibe, applying contact paper to some of your flat horizontal surfaces could be the pop of color or new feeling that you've been missing in your living room refresh. Plus, if you don't like it, then t's easy to remove. A win-win!
5. Try changing out the small things. 
Things like throw pillows or new coffee table cooks can give your living room a surprising facelift. The best part? You can find them on the cheap.
Check your local thrift store for large coffee table books perfect for bringing new life to the apartments in St. Joe, MO. Countless amounts of books are donated to places like Goodwill and the Salvation Army, and you could likely find a great deal for a nice, almost-new book to display. If your local thrift store doesn't have anything that suits your tastes, though, check the clearance section at places like Wal-Mart or Target. You'd be surprised what you could find, be it from things that just didn't sell well or things that were returned that have to be priced down.
Using sites like Amazon in combination with coupon apps like Honey can also save you money! Search using the price filter to find a good deal on a cute new pillow cover, and use your existing pillows as the filler. That way, if you ever find yourself longing to have your old style back, it's as easy as changing the cover.