Trying to create an environment in our homes that we always want to return to and feel cozy in can be difficult. It can be a challenge to build our personal style in a way that's warm, inviting, and comfortable both to ourselves and any guests that we may have. 
Here at AE Lofts, our apartments in St. Joe, MO are a blank canvas just waiting for you to bring your own personal style – whether it be hygge or not.
So, what exactly is hygge?
What is hygge?
Pronounced "hoo-guh," hygge is a Danish and Norwegian word that essentially means "comfort." It is a concept that is all about promoting feelings of wellness, happiness, and coziness into your home. It's a kind of lifestyle and design choice that promotes feelings of contentment. Choosing the right decor can help you bring the idea of hygge into your home.
Even though our apartments in St. Joe, MO are thousands of miles away from Denmark and Norway, there's no reason why you can't still bring the idea of hygge to your home stateside. Looking for ways to bring hygge to St. Joe? Here are some ideas:
1. Use natural light
There's nothing more cozy than letting the natural light outside spill into your home. The ambient light and natural glow it brings can instantly brighten both your home – and your mood. Plus, your body will thank you for the extra Vitamin D. 
The only problem? Many apartments don't exactly come with a plethora of natural light. However, there are solutions to this problem! Place mirrors across from windows in order to reflect the natural light that comes in throughout the room. You can also add things like crystals or suncatchers to your windows to add a little extra "oomph" to the natural light coming in. 
2. Bring in the candles
The only problem with natural light is that the sun sets, so it doesn't last all day long. When the sun sets, instead of turning on the grating overhead light, try lighting some candles instead. That way, you'll still be able to get the warm and cozy feeling that using natural light brings without having to turn on any additional lighting. There's just something special about curling up on the couch with a good book and being surrounded by candles.
Just be sure to be careful with your candles! Don't go to sleep before blowing your candles out, and don't let them burn for too long. 
3. Create comfortable spaces
Hygge is all about comfort, so bringing hygge to your home should come with creating comfortable spaces. 
Do you have an awkward corner in your apartment that you aren't sure what to do with, or do you have an empty closet that isn't being used for anything else? Make those into cozy spaces! Add an armchair, a bench for storage, or even just a fluffy rug, blankets, and pillows. With a little love and some extra finishing touches, you've created a comfy and cozy reading nook to bury yourself in. Perfect!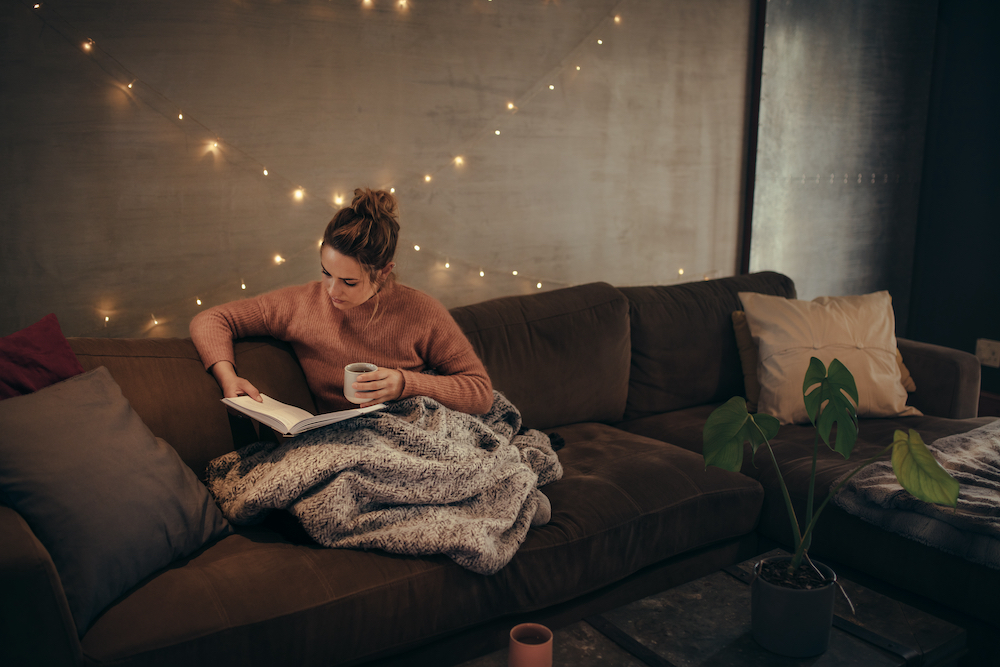 4. Indulge in your sweet tooth
Nothing quite has the home comfort feeling like the smell of freshly baked goods. A warm cinnamon, sweet sugar, or warm and yeasty fragrance throughout your apartment immediately tug on your sense of home and comfort and give you the nostalgia factor that's so vital to the idea of hygge. 
Plus, once you've done your baking, you'll have the perfect reason to go and speak to your neighbors to share the wealth. Or… you could just keep it all to yourself. No one will judge you, promise.
5. Set down your phone
In today's age, many people depend on their phone like it's an additional limb. However, the idea and lifestyle of hygge encourages you to relax and be more in the moment. Indulge in things that make you happy, comfy, and cozy, without the bluescreen light of your phone. 
When you're feeling a little overwhelmed or particularly stressed, put your phone away and head to the cozy space in your apartment. Spend a little extra time reading under a blanket, listening to music, baking, visiting with friends or neighbors, or any number of things to help you feel more calm and at ease. Whatever is on your phone can wait for a while.
6. Make the most of your outdoor space
If your apartment has a balcony, then there's no reason why your hygge design choices should have to stay within the four walls of your apartment! You can easily bring some of that warm and cozy design out onto your terrace. 
If you've got just a small balcony, add some string lights or some plants outside and tug out a weatherproof comfy chair to enjoy some tea by the warm glow of your lights. If you've got more room, bring out some bistro tables, outdoor rugs, and weather-resistant blankets. You could even add a projector outside to watch movies!
Even though your space is outside, you can make it just as comfy and cozy as any space inside. Put a little thought into it, and your balcony may just become your new cozy haven. 
Check Out AE Lofts
Here at AE Lofts, we want to make sure that our apartments in St. Joe, MO give you the feeling of home that you deserve. We want to make sure that you're feeling warm, safe, and comfortable in your home whether you decide to practice the idea of hygge or not.
While our apartments may not have balcony space, we more than make up for it in our loft-style interior. High ceilings with exposed beams, brickwork, and more give you a sense of coziness that many other apartment complexes can't boast. Plus, with our incredible appliances and state of the art kitchens, you'll have no problem whipping up something delicious to make your apartment smell – and feel – like coming home. 
If you're interested in making AE Lofts your home, contact us and schedule a tour today.