Trying to find easier and better ways of organizing your space is something that we all struggle with. It's a difficult task of choosing what works best for your space in a way that fits everything you need to, and because so many of us have a lot of clothing, it can be a huge undertaking.
At AE Lofts, our apartments for rent in St. Joseph, MO, provide you with all of the space you need to keep your space as organized as possible. Our high ceilings and exposed brickwork are perfect for offsetting the organizational tools that you might use to truly make your space yours. 
Are you trying to figure out how to best organize your space? Let us help! Here are ten ways that you can make the most of your space:
1.) Label, label, label
There is nothing worse than walking into your closet to a hoard of baskets, bags, and more just piled on top of one another. There's a particular belt that you're looking for that is going to perfectly match your outfit, but you have to tear through what is essentially a dragon hoard of accessories to try and find the one you're looking for. 
Creating a good label system will help you with that. Having a lot of baskets and other storage containers is a good thing, but not knowing what everything holds isn't! A good labeling system can really save you some grief in the long run. 
2.) Use your vertical storage space
When you can't build out, build up. If you have a lot of space in your closet along the walls, on top of shelves, etc., then use that vertical space to store more items! Our apartments for rent in St. Joseph, MO may not have as much horizontal space, but there's plenty of vertical space to make use of. Just be sure to invest in a good quality and sturdy step stool to help you get up there if you need it. 
3.) Hide your laundry basket
Laundry baskets can take up a lot of room on the floor of your closet when they don't really need to. If you're planning to do any kind of renovations in your closet, then it might be worth it to hide your laundry basket in a hidden drawer or something similar. Keeping the messy clothes hamper out of the way out of sight and out of the way can go a long way in making your closet look less cluttered and more organized. 
4.) Keep your shoes off the floor
For people who have a lot of shoes, keeping everything organized can be difficult and it can create a lot of clutter. However, keeping your shoes in piles on the floor only makes it worse. When you're trying to organize your closet, finding a good organizing system for your shoes is vital to keep things clutter-free.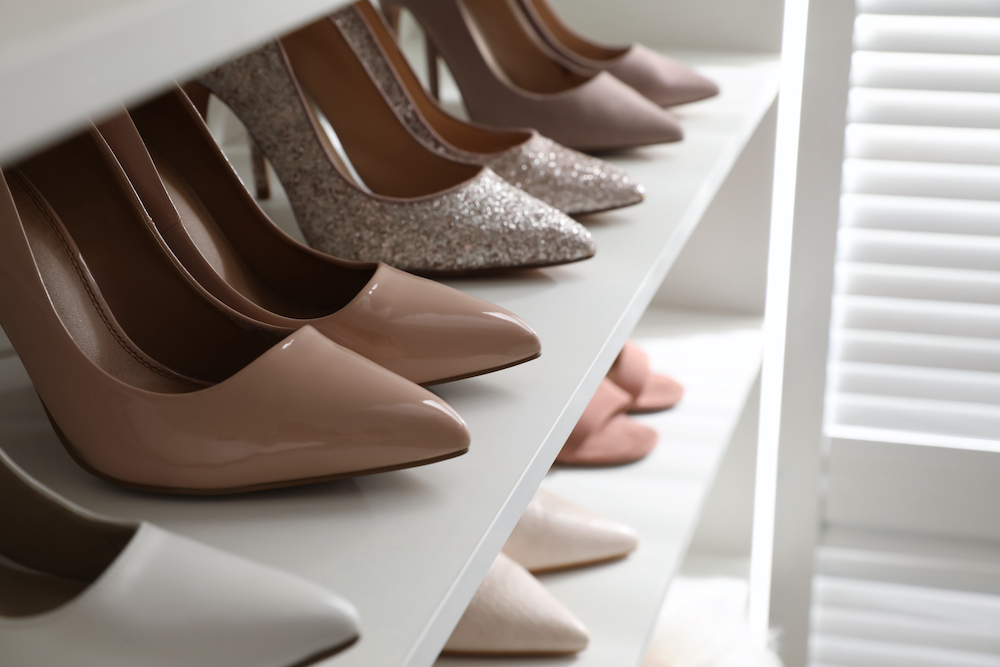 5.) Ditch the door for a curtain
When you feel like your closet may be getting a little bit overstuffed, then it might be a good idea to ditch your closet door and use a curtain instead. If you get a curtain that matches your room, it won't clash, and it'll hide how full your closet is since a curtain isn't as rigid as a door. 
6.) Utilize the space on the back of your door
You might not be able to use this hack if you're in one of our studio apartments for rent in St. Joseph, MO, but the back of your closet door is one of the most under-utilized storage spaces in your apartment. Over the door shoe organizers, baskets, and more are great ways to make the best use of your space when you might not have much!
7.) Display your favorite accessories
If you need a little extra space in your closet, then there's no reason why you can't display some of your more funky accessories as decorations! Hang fun hats, scarves, or handbags on the wall with command hooks to give an awesome feeling to any space. Plus, it moves them from your closet to give you a little more room!
8.) Use shower rings
Using shower rings across the bottom of a hanger to store things like scarves, belts, and other accessories. Not only does it save space, it also reduces the amount of clutter in your closet and makes your accessories easier to find. 
9.) Soda tabs double your space
If you're having trouble making room in your closet for all of your hanging clothing, then soda tabs are a cheap and easily accessible way to condense your closet and make more hanging space. Simply slip the soda tab over the top of the hook to create an additional hanging space for another hanger. Doing this will save you space, and you'll be able to hang items of clothing together that you typically wear together. Easy!
10.) Get a rolling cart for your accessories
If you want to keep your accessories all in one place, but don't have the space in your closet to give them their own designated space, then a rolling cart for your accessories might just be the thing that you need. Get organization trays or cubes, a jewelry organizer, or any other kind of organization tool to make the most out of your space. When you need to access your accessories, simply pull your rolling cart out from its spot to access it, and then move it back when you're done so that it's not in the way. 
AE Lofts
Here at AE Lofts, we want to make sure that you have the most comfortable – and organized – experience in your home as possible. If you need a little extra space, then our on-site resident storage areas can help you get a little bit of extra closet space if these storage tips don't quite do the trick. Plus, once you're done organizing, you can take a break in the coffee shop located on the first floor to reward all of your hard work. 
If you want to make one of our apartments for rent in St. Joseph, MO your new home, then contact us and schedule a tour today!