If you're a renter, then don't lose heart! You can still put your personality on full display in your new downtown loft apartment.
These ideas for downtown loft apartments will show you how to add some nice personal touches to your living space. We will also dive into some interesting new design themes. By the end, you'll be able to decorate a space that will be the envy of all your friends and neighbors – regardless of how big it actually is!
The Best Ways to Utilize Your Square Footage 
Your apartment size doesn't have to be a limiting factor when designing it. But of course, it's still an important factor to keep in mind when picking out specific décor and furnishings.
Also, suppose you happen to be downsizing to downtown loft apartments to enjoy the perks of living downtown. In that case, it's a great time to discover some new favorite items.
The first thing to know is that maximizing your floor space is of paramount importance if you're living in a smaller place. For instance, you could try to utilize as much wall space as possible by installing some wall shelves. Floating shells work well as décor pieces. The no-drill type is still strong enough to show off your favorite stuff without affecting your security deposit. And finally, you can also use storage baskets to keep things tucked out of sight instead. This has the added benefit of looking decorative as well.
Making Your Layout Work for You
The layout of your apartment isn't your enemy. It's just an opportunity for you to come up with an amazing design and use your space to its full potential.
Even if your space is shaped in an awkward way, you can use the unique features that it does possess to your benefit. For instance, a bump-out wall could become a "trophy wall" for your best art pieces or for important heirlooms that you'd like to put on display.
If you're considering smaller downtown loft apartments with balconies, then you can add some outdoor seats. After all, St. Joe has many more sunny days than rainy days. Your guests will surely love to spend more time outside if at all possible!
Create the Illusion of More Space
You know all that stuff you read online about making small spaces look and feel bigger? Well, it's there for a reason – because it works.
Take mirrors, for example. Even if they are small mirrors for decorative purposes, you can still hang them on your walls, and this will make a small room look larger. They do this by reflecting natural light. This is always a welcome addition in a smaller apartment.
Experts recommend paying close attention to detail when it comes to design features, especially concerning colors and patterns. Bright splashes of color throughout the apartment keep the eyes moving. Also, using linear patterns will make the apartment feel wider or more lengthy. However, this depends on the structure of the prints you use.
There are also some methods of enlarging a space that might not sound obvious at first.
Take, for example, a big piece of furniture that you don't want to give up. You might think that you have no choice but to let go if you're moving into a smaller place. However, you could instead make that bigger piece a focal point of your apartment, drawing people's eyes to that instead. And if you have a big bookcase, you can turn that into a mini-library type of vibe rather than having it overwhelm the entire space. If it really is a huge bookcase, then be sure to measure the space to ensure it will fit.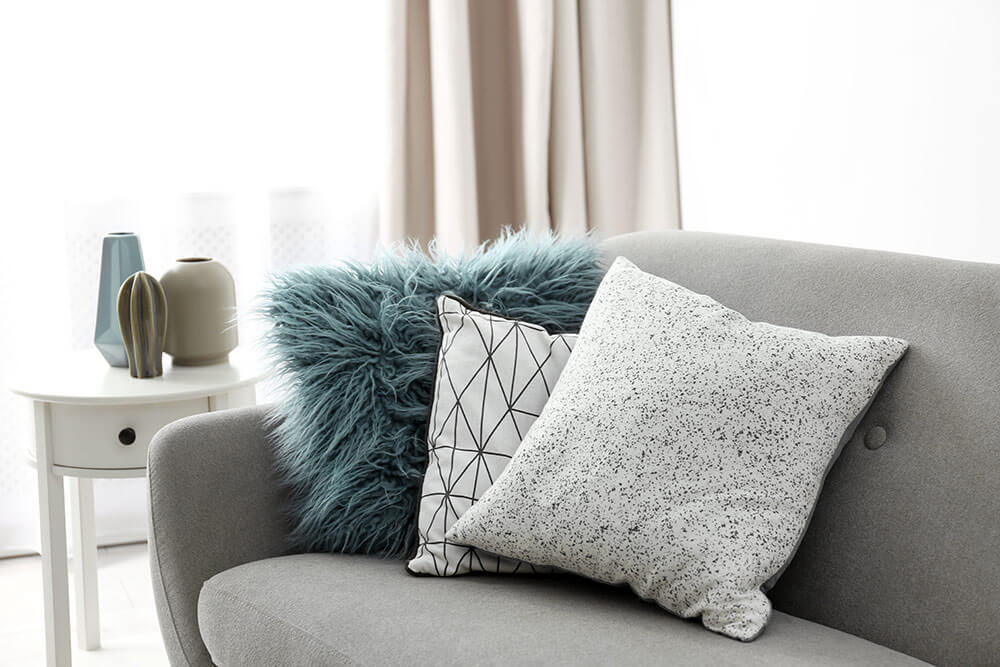 Ideas for an Impressive Living Space
Many downtown loft apartments are located nearby a desirable area to explore. That's great, but don't neglect the beauty of your apartment as well!
If you have a smaller living room in the apartment, you just have to do the best with the space that you can. With some of these cool apartment ideas we're providing here, you too can have a space that will impress and WOW visitors.
Let's start with the walls. If you have a big blank wall to work with, consider putting up some unique-looking art pieces. It's also a good idea to include some modern design elements behind the couch (if you have one). Don't be afraid to play with different colors, even if they are part of the same family. The right colors can make your space feel more cohesive overall.
And finally, remember to keep things simpler in the focal spot! Enjoy the design process, but take care not to overwhelm the space either. This becomes more important to follow if you're designing within a smaller room with less square footage.
Understanding Design Themes
When it comes to designing downtown loft apartments, the key is to borrow ideas that can work for any size space. For creating more cohesion, add a design theme that will allow your own unique personality to shine.
So before picking out a design theme, look at the items you own already. If most of your stuff lends towards the modern side, you shouldn't be designing your room with vintage in mind. That is, unless you're trying to reinvent your new living space.
Also, consider the natural layout of the apartment. Let's say it already possesses some industrial elements. In that case, you could play off of that and introduce some accessories and furniture that fit in with that. Some examples could include darker colored décor or even industrial lighting.
After that, consider each room one by one and how you can contribute to the existing design themes. There are no strict rules to follow, but there are trends and guidelines for different themes. For example, vintage can often entail using repurposed furniture or distressed fabrics. And for mid-century modern, this usually includes muted colors and clean lines.
The boho-chic style is the easiest of all, with no rules whatsoever, and anything goes! Bold colors or patterns that pop all work just as well with this design style.