If you're looking to move into a new apartment, creating a budget and actually sticking to it is one of the most difficult things that you'll need to accomplish. There are so many things that go into creating and maintaining a budget, and many people just don't even know where to start. 
Here at AE Lofts, our Saint Joe apartments may be perfect for someone and not perfect for another, depending on their budget. But how do you even figure that out? What are the right questions to ask, and how does budgeting help?
Luckily for you, we can help give you a head start into what you need to be looking out for and thinking of when you create your apartment budget. Here are just a few tips:
1.) Do your research. 
Creating a budget can only come after you know where you're going to be moving. After all, creating a budget for a New York City apartment compared to one of our Saint Joe apartments is going to be a drastically different process. 
Cost of living is going to vary from state to state and city to city. As a result, once you have a better idea of where exactly it is that you want to move, your true budgeting can begin. How much is the average apartment cost? What about utilities? Are you going to want to be a member of a gym? What are your normal cost of living expenses, like a phone bill, student loan payment, etc? 
Without doing your research, you might prepare a completely unrealistic budget for your new location – whether it be too much or too little. Doing even just a quick, cursory Google search can help you in the long run to figure out what exactly it is that you need.
2.) Calculate your moving expenses.
It's always a huge decision to consider: are you planning to hire movers? 
In the long run, hiring a moving company might be worth it. It will definitely save you a lot of heartache, stubbed toes, and irritated friends at the end of the day. But if this isn't something that you plan for, then those moving costs can really come from behind and surprise you.
Once you've decided to make that leap into the world of finding a moving company to hire, start saving and budgeting for it immediately. It's only a one-time cost, but it can sneak up on you if you aren't careful.
A moving company isn't the only thing you need to budget for, though. If you're going to be traveling a large distance to move, then with current gas prices and other inflation, you might need to budget for the traveling expenses for yourself: be it plane tickets, gas money, shipping costs, new items for your home, or anything else depending on where you're planning to move. Start saving as soon as you decide so that you're prepared when the time comes!
3.) Do you really need all of those streaming services?
Streaming services might make it seem like you're saving money in the long run when you're comparing it to cable prices, but are you really? 
Services like Netflix, Hulu, Disney+, and many other popular entertainment streaming services can really add up. In fact, if you have several different services, they might even total up to be more than one of those expensive cable subscriptions. 
Check to see what services you actually use frequently. If there are a couple that you really don't use too often, it might be worth it to go ahead and cancel those subscriptions. It might not seem like too much money a month, but it will really add up over time!
4.) Watch how much you're paying on your loans.
Student loans, car loans, and personal loans can really take a giant chunk out of your paycheck if you aren't careful, but these are things that must be paid, and should be budgeted for at the very beginning of your budget. 
Before you go out and decide that you need to have a new car to go along with your new apartment, consider the implications. Is your car payment going to be significantly higher than it is now? Is getting a new car going to add on a completely new payment?
It's not a good idea to create massive amounts of new debt right before you're getting ready to move to a new location, or, if you're younger, move out on your own for the first time. Really take a look at your options and your finances before you make the huge decision to take on another loan.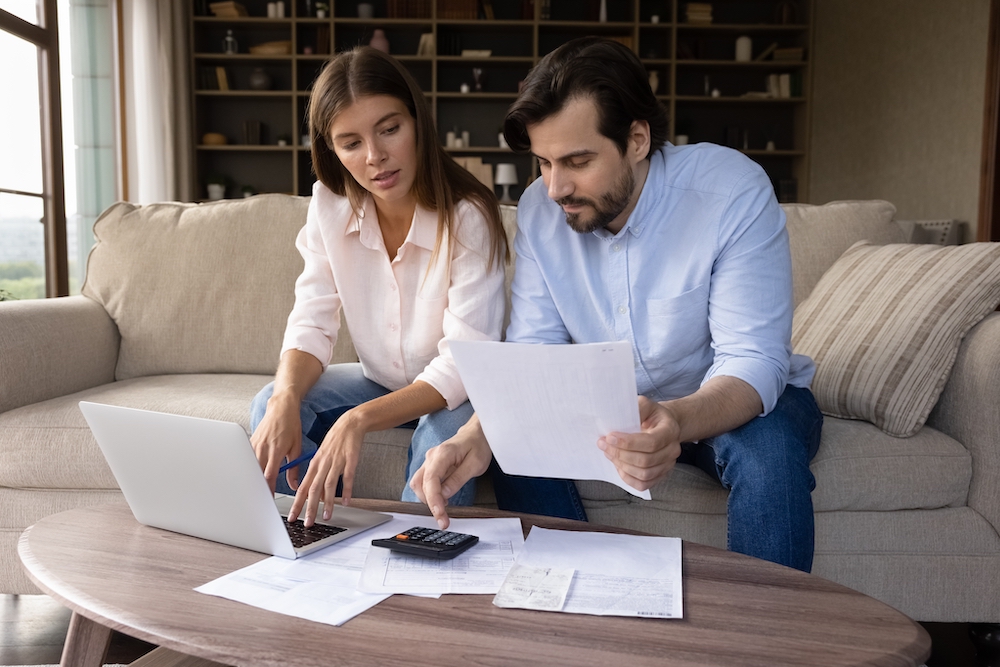 5.) Keep an eye on your bills. 
Service costs can fluctuate depending on the economy, how much of the service you're using, and other factors. Make sure that if you have these expenses tracked in your budget that you're keeping a close eye on how much you're actually paying for these services.
This is especially important if you use the AutoPay feature in order to make these payments. You might not even realize the extra money being taken out of your account if you don't keep a close eye on how much each service is costing you. If a service provider is hiking up their prices, then it might be time for a company change, if that's available to you.
6.) Use a budgeting app to help you keep track of your expenses. 
If you really struggle with keeping consistent track of your budget, then it might be a good idea to download a budgeting app. Mint, a budget app, can actually link to both your checking and savings accounts to help you keep better track of your money. You can set up categories, and it can tell you when you're approaching your budgeted limit for that category. It's a good idea if you want a little bit more of a hands-off budgeting style.
How AE Lofts Can Fit Into Your Budget
American Electric's Saint Joe apartments can help you in your money-saving journey. With all of our on-site amenities like a fitness center, energy-efficient appliances and lighting, and in-unit washing and drying, we can help you really stay on top of your budget. After all, the more that we can provide for you in-house, the less that you have to pay for.
If you're interested in touring our apartments, then contact us today!