If you're one of those people that needs to plan everything in your brain months before you take any kind of action, then trying to figure out how to best decorate loft style apartments is likely a major headache. Knowing exactly what you need, what you can fit, and how exactly everything will look in a new space with no frame of reference is extremely difficult to do.
Luckily, there are some basic essential items and tools that every apartment needs, loft style or not. Starting out with these items can save you a lot of stress and brain power in the future once you begin to purchase everything else for your apartment.
If you are still sitting there in a storm cloud of anxiety, here are a few suggestions that might be able to help:
Kitchen Essentials
No matter what kind of apartment you move into, whether it be one of the area loft style apartments or a three bedroom condo, will need basic tools in the kitchen. These tools do not have to be anything fancy or expensive, but every kitchen should have at least a few basics:
Utensils, glasses, and dishware: No matter if you cook in your kitchen or not, you will still need some basic supplies in order to actually be able to eat and drink in your home. A set of good utensils and some basic glasses and dishware will take you a long way. If you get them in basic, neutral colors, you'll be able to easily take them with you from apartment to apartment without too much change.

A solid set of kitchen knives: No kitchen is complete without at least a few knives in the kitchen. Most big-box department stores sell knife sets in all kinds of

fun, exciting colors

, but if you spring for a set of really nice knives from the get-go and take care of them, they can last you a lifetime.

Mugs: For coffee. …enough said.

Small appliances: Your apartment will likely come furnished with large appliances like a refrigerator and an oven. Depending on how often you cook or what you most like to use your kitchen for, some smaller appliances like a coffee pot or a toaster would not go amiss. Plus, these are staples that are easy to move from apartment to apartment!
Cleaning Essentials
When you first move into your loft style apartment, the last thing on your mind is how you're going to clean up after yourself. However, getting some good cleaning products can make or break your comfort level in your home. 
How you clean your floors depends on what kind of flooring that you have in your apartment. If you have carpet, a vacuum is a must-have, but if you have hardwood, then a good broom and dustpan is going to be more your speed. Also, take a look at the kitchen. Is it tile or laminate? Then you're also going to need a mop!
Other basics you should get are a toilet plunger and toilet brush, rubber gloves, and sponges. From there, you'll add cleaning supplies based on your preferences and needs. Make sure you get what you need to clean every room in your apartment, but don't go overboard!
Bathroom Essentials
The bathroom isn't going to need as many things as, say, the kitchen, but you will definitely need some basics in order to get started setting everything up. After all, you've got to be able to take a shower somehow, right?
Make sure that you have at least one hand towel, two bath towels, and a shower curtain and liner. These are going to be the most important things to have right at the beginning, because it will at least allow you to take a shower, even if it isn't the most glamorous shower you've ever taken.
Along those same lines, make sure that you've got all of your basic grooming products as well: shampoo, conditioner, toothbrush, toothpaste, etc. You don't want to hop into your shower after a long, hot day of moving and realize that you can't even wash your hair!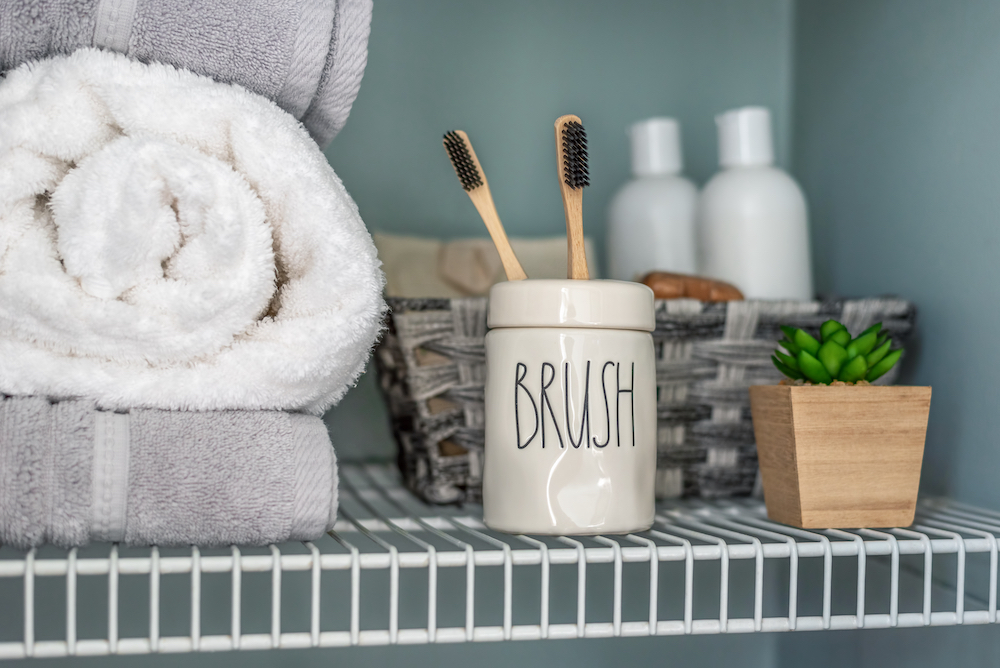 Bedroom Essentials
After a shower with one of your new towels in your brand new bathroom, you're going to want to make sure you've got a nice, comfortable place to sleep! 
A mattress is definitely going to be your big ticket purchase. Make sure that you're shopping around and looking for deals in order to get the best possible mattress for the best possible price. If you get a good one and take care of it, it will last you through years and several (potential) moves. 
Along those same lines, make sure that you've got sheets, pillowcases, and a comforter. You want your bedroom to be your sanctuary, and that means not using your second towel (that you have because you were prepared for the bathroom!) as a blanket the first couple of nights. Invest in a good sheet set and a good comforter or duvet with cover, and you'll be set for years. 
Storage Solutions
One drawback to living in a smaller apartment like a loft or a studio is the lack of storage. If you are lacking a closet or believe that you might need some more storage space, it's easier to begin looking at storage solutions before you move in to better incorporate them into your overall design. 
Wicker and wooden baskets on shelves make for great storage that you can easily display without it looking too cluttered or messy. Organizing things like jewelry, hats, and scarves on hooks on the wall can add to the décor of your apartment while still keeping things organized and out of the way.
Something new that's come into fashion are the clean lines and "decanting" of household goods like spices and cleaning products into minimalist, neutral-toned containers. If you're looking for ways to visibly store products that won't look cluttered, this may be an option you can take to do so.