Hosting Thanksgiving can be overwhelming and time consuming, even if you have a large house to host in. Trying to accommodate everyone who's coming over and making sure that everything is ready to go is a daunting task. If you're in a small apartment and you're hosting Thanksgiving, that's even more of a mountain to climb: one that may seem insurmountable. 
Hosting Thanksgiving at our St. Joseph apartments doesn't have to be stressful. By utilizing some of these tips, we can help you make the best of your Thanksgiving hosting experience, whether it's your first time, or your fourth. 
If you're looking to make the most out of your hosting experience this Thanksgiving, here are some tips that might be able to help:
1. Prepare what you can before Thanksgiving Day.
Preparing food, drinks, and more for Thanksgiving can take up a massive amount of space. When your space is already limited because you're living in an apartment, then that lack of space can make you feel claustrophobic and overwhelmed. A way to help you get around this is by preparing what you can the day before, so that your kitchen doesn't look quite like a disaster area. 
More prep work beforehand means that you'll have less stress, less work, and fewer people in the kitchen trying to "help" on the day of Thanksgiving. Prep work makes it easy to simply combine ingredients and add the finishing touches onto your Thanksgiving dinner, making it less cluttered both in your kitchen and in your brain. That's a win all around!
2. Rearrange your furniture. 
If you're having a larger number of guests over to visit at a smaller apartment space, then you're likely going to have to get creative about how you're actually going to fit everyone inside!
First, you need to determine if everyone has a place to sit for Thanksgiving dinner. Apartments like our St. Joseph apartments are great for hosting people, but they do tend to have limited dining space. If you need to expand your dinner table, additional tables, desks, and more can extend the table a bit to make sure that everyone has a place to sit. 
However, the kitchen and dining area aren't the only places that you need to consider. After the meal, your guests will likely want to hang out for a while before they go home. Is there somewhere for everyone to sit in the living room or lounge area? Or, if there's simply no way for you to expand your dining room table enough to fit everyone, do you have places for everyone to sit in the living room?
You want to make sure that none of your guests feel like an afterthought. Rearranging the furniture to make sure that everyone fits is a great place to start.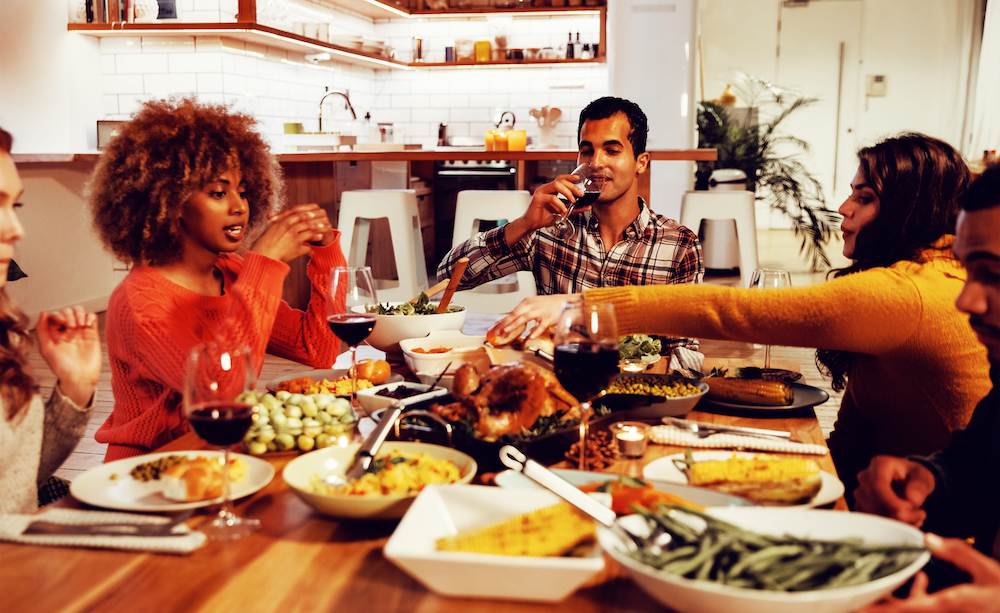 3. Get your fridge ready – and maybe a few extras.
Yes, before you start your Thanksgiving shopping, prepping, and cooking, you need to clean out your fridge. Take everything out of your fridge and give the appliance a deep cleaning. It's the perfect opportunity to get everything ready!
If you're concerned about not having enough fridge space on the actual day of Thanksgiving, then there's a solution for that as well! Two simple coolers are perfect to help you combat those full-fridge blues. 
For cold storage, fill a cooler halfway up with ice and remove the items from your fridge that need to remain cold but don't need to be used at Thanksgiving dinner. Things like condiments, cheeses, pickles, and other fridge staples that most people have in their fridges can go into the cold storage cooler to wait until the end of Thanksgiving dinner. This will keep them cool but out of the way so that you can use your fridge to its full potential.
The same concept applies to hot storage. Heat up some water and add it to the second cooler. Close the lid and allow the cooler to sit. After about fifteen minutes, drain the water from the cooler, and you've created yourself an insulated hot box! This isn't a long term solution, but it will free up oven space when cooking larger items like a turkey. 
4. Serve your food in a space-saving way.
When it comes time to serve your food, then the fewer plates and serving vessels you have, the better. That way, it's easier for you to clean, easier for your guests to reach, and it takes up less room on the already limited space on your dining room table. 
If your table is simply too small to play host to a wide array of different dishes, then that's okay too. You might instead want to serve your food buffet style, placing all of the dishes along the kitchen counter and allowing everyone to serve themselves. That way, all of the dishes are off of your table and everyone has enough room to eat without the fear of getting into someone else's space. It's a win for everyone involved!
5. Clean, clean, clean!
If you live in a smaller space like an apartment, then it's doubly important to make sure that your apartment is clean for your guests! Even the smallest bit of clutter can make the room seem more cluttered or cramped if your apartment doesn't have the room to accommodate everything and everyone. By getting everything in your apartment spic and span, it makes the room feel brighter, more open, and more inviting, perfect for hosting a holiday dinner. 
AE Lofts – Premier St. Joseph Apartments
Here at our St. Joseph apartments at AE Lofts, we want to make sure that you have the best experience possible if you've been chosen to host Thanksgiving this year. Whether or not you're hosting Thanksgiving, Friendsgiving, or something entirely your own, those of us here at AE Lofts want you to feel comfortable, happy, and excited to invite people into your new home. 
If you're interested in making AE Lofts your home for the holidays, contact us and schedule a tour today!