When you take the big step to finally make the move you've been thinking about for years, one of your biggest questions might be: but what about my pet? 
Pets are a major part of the family, and they should always be considered when you're planning a big move. It can be a large and kind of overwhelming undertaking when you aren't sure where to begin. 
1.) Opt for Pet Friendly Housing
Before you begin any other kind of moving processes, though, you first have to figure out where you're going to live. Finding a pet-friendly apartment complex or neighborhood should be your first step before anything else. After all, it can't be your dream home or dream apartment if your four-legged friend can't come with you!
It's also important to take a look at the layouts of the places you're considering the move to. Cats do better with places that you're able to build more vertically in, to accommodate for cat dowers and other climbing ventures. Having too low of a ceiling could be detrimental to a cat. 
Dogs, on the other hand, will need access to the outside in order to use the restroom. Older dogs, puppies, or dogs with just general house training issues will find this more necessary than other dogs, but it's still important to locate a place where your dog can do its business. 
Fortunately, our St. Joseph apartments at AE Lofts have just what you need for a pet-friendly environment. We encourage our residents to bring their furry friends with them. Our loft-style apartments really lend themselves to building up for your cats, and we also have an on site fenced in dog park and Paw Spa for your canine family members. We can safely and proudly say that we are a corner of the St. Joseph apartments sector that loves and will help provide safe spaces for your pets. 
2.) Acclimate Your Pet to Their New Home
Something else that you'll need to do is make sure to acclimate your pet to their new home. If at all possible, try to get everything unpacked and set up in your new house or apartment before bringing your pet to their new home. 
It can be tempting to let your pet run wild and free in your new big ope space, but all the new scents and smells and people can be overwhelming to your pet. See if they can maybe stay with a friend if at all possible while you're trying to get everything set up. Or, if that isn't possible, set up a "home base" room before you start unpacking anywhere else that's calm and quiet and ready for your pet to hang out in. 
Once everything is set up, the "new car smell" situation isn't as overwhelming, and there are familiar things around the apartment or home, slowly introducing your pet to their new home. One room at a time, with doors to other rooms closed off, allow your four-legged friend to explore all of the new sights and smells that come with being in a new place. When they've had enough time to explore that room, open up another door. Allowing your pet the opportunity to take their time when learning their new home environment can go a long way in making your pet comfortable and happy.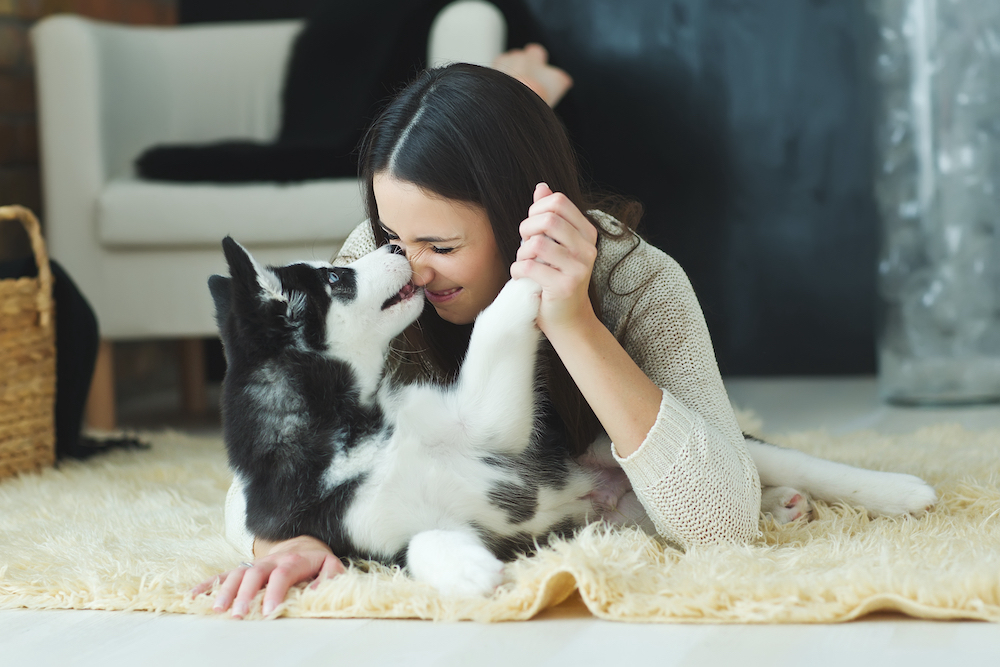 3.) Prep Beforehand for the Car Trip
If you're moving quite a long distance away from your current home or apartment, then it's a good idea to start getting your pet used to the road trip. What that looks like might be different for everyone, so you'll need to determine what exactly it is that needs to be done. 
For example, if your cat isn't used to spending long periods of time in their cat carrier, start getting them used to being in it for longer and longer periods of time. Take them for short car rides in the carrier, increasing the time each time. Carry them around the house in it so that they get used to all of the movement. This kind of preparation allows them to not be so stressed during the move.
Related to this idea, make sure that you talk to your vet before giving it any kind of sedatives for the trip. You may be tempted to simply give your pet something that will knock them out for a while, but that's not always going to be what's best for your pet and their health. Talk to your vet to see if these medicines are safe before you administer them.
4.) Talk to Your Vet
Speaking of your vet, your vet is instrumental to your pet's health and well-being both before and after the move. Before you move, talk to your vet about the best steps to take when getting your pet ready for the move. Keeping your pet in the loop about your plans will not only ease your mind, but it will also give your pet a head start in their new home.
Before you go, talk to your vet about getting your vet's records, making sure that your pet's shots are all up to date, and getting their medicines sorted before you go. After all, it may take you a little time after moving into one of our St. Joseph apartments to find a vet that you like and get your pet's prescriptions renewed. See if there's a way that you can get a longer supply, or ask if your pet might allow you to order your prescriptions from a service like Chewy until you can get a vet established. Having this conversation early will prevent a lot of heartache and stress in the future. 
5.) Remember: Every Pet is Different
Of course, it's important to remember that every pet is going to be different. There is no set way that your pet might react when moving into a new area. Your dog may be extremely excited to be in a new place with new smells and new people, but your cat may be reluctant to even leave your bedroom.
Be patient with your pets. Just like you, it'll take time to get used to the place that they will now need to call home. And if you're looking to make that home AE Lofts, contact us to schedule a tour today.