First-aid kits come in a variety of designs and sizes. You can get one online from the American Red Cross or pick one up at your local pharmacy. You may also choose to assemble your own DIY apartment first aid kit. A well-stocked first-aid kit can assist you in correctly responding to common injuries and emergencies.
Maintain at least one first-aid kit at home and one in your vehicle. Keep your kits in a convenient location that is out of reach of small children. Make sure that children who are old enough to understand the purpose of the kits are aware of where they are kept.
Having medical supplies in loft style apartments is just good sense. A well-stocked first-aid pack can help address common injuries and emergencies more effectively, especially if an adhesive bandage or an ice pack is needed immediately.
Why not be proactive and assemble a first-aid pack that is tailored to your specific needs? You may choose all the essentials for a homemade first aid kit for minor emergencies. It also does not have to be outrageously pricey. Begin your medical treasure hunt at your local dollar store, where the choices are likely to amaze you.
Three Simple Steps in Creating Your Very Own Apartment First Aid Kit:
1.) Set a Budget.
The first step is to determine your budget. Spend $15-$25, and you'll have a wealth of handy items at your disposal. Look around for low-cost items for your first-aid kit. Don't be shy to go to your local Dollar Store to look for inventory. Items such as cotton balls and tweezers, for example, can be obtained in the cosmetic area of your local supermarket. 
2.) Choose the First Aid Items based on your requirements and preferences.
Create a checklist of basic first aid supplies and more personalized products to simplify your DIY first aid kit shopping.
Red Cross Recommended Supplies
Here's a list of items based on Red Cross data that can be included in DIY first aid kits for loft style apartments:
2 compress dressings (absorbent) (5 x 9 inches)

25 bandages with adhesive (assorted sizes)

1 Cloth tape with adhesive (10 yards' x 1 inch)

5 packs of antibiotic ointment (approximately 1 gram)

5 sachets of antiseptic wipes

2 aspirin packets (81 mg each)

1 blanket in case of emergency

1 breathing barrier (with one-way valve)

1 cold compress (instant)

2 pairs of gloves that aren't made of latex (size: large)

2 packets hydrocortisone ointment (approximately 1 gram each)

1 pc 3 in. gauze roll bandage

1 pc roller bandage (4 inches wide)

5 pcs. 3 x 3 inches' gauze pads (sterile)

pcs. 4 x 4 inches' gauze pads (sterile)

Oral thermometer (non-mercury/non-glass).

2 Triangle bandages 

Tweezers

First Aid Guide 
Basic supplies to consider for loft style apartments:
Adhesive tape

Elastic bandage

Assorted bandages with different sizes

Superglue

Rubber tourniquet or 16 French catheter

Non-stick sterile bandages and roller gauze in various sizes

Eyeshield 

A triangular bandage that may be used as a sling.

Aluminum finger splint

Instant cold packs

Cotton balls and cotton-tipped swabs

Disposable non-latex examination gloves, several pairs

Duct tape

Petroleum jelly or other lubricants

Plastic bags, assorted sizes

Safety pins

Scissors, pocket utility knife

Hand sanitizers

Antibiotic ointments

Antiseptic solution and hand towels

Eyewash

Thermometer

Bulb suction device for flushing wounds

Sterile saline for irrigation, flushing

Breathing barrier (surgical mask)

Syringe, medicine cup, or spoon

First-aid manual

Hydrogen peroxide to disinfect
Emergency Items to Consider for loft style apartments: 
Phone numbers for emergency services, such as your family doctor and pediatrician, local emergency services, emergency road service providers, and the poison assistance line, which is 800-222-1222 in the United States.

Forms for each family member's medical permission

Forms for each family member's medical history

Extra batteries and a small, waterproof torch or headlamp

Waterproof matches

A waterproof writing utensil and a little notebook

Space blanket in case of emergency

Solar-powered phone charger

Sunscreen

Repellent for insects

Emergency Blanket

Flashlight & Back-Up Batteries

Instant Cold Packs

Antibacterial Soap

Safety Pins

CPR Mouthpiece
Medications to Consider for loft style apartments:
Aloe vera gel

Calamine lotion

Anti-diarrhea medication

Laxative

Antacids

Antihistamine, such as diphenhydramine

Hydrocortisone cream

Cough and cold medications

Personal medicines 

Auto-injectors, if prescribed by your doctor

Pain relievers, such as acetaminophen and ibuprofen
3.) Choose the Right Container and Storage Area.
Finally, you must select a suitable, well-sealing container. A multi-compartment zippered bag or plastic containers with locked closures might be helpful. Make your kit a bright color to make it stand out, and also, it's best to label it. Place it wherever everyone can get it quickly when it's needed. The DIY first aid kit may be neatly stored in a pantry, under the sink, or beside the kitchen cabinet, or even in your bedroom for easy access.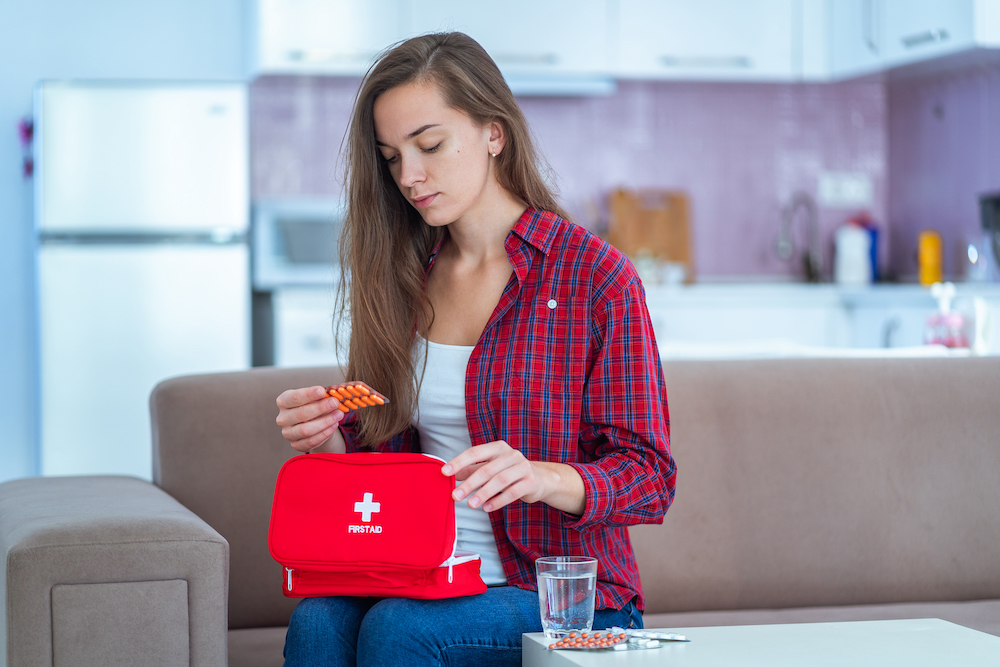 Some Tips and Reminders
Inspect your DIY First Aid Kit Regularly.

Check your first-aid kits regularly to ensure that the flashlight batteries are working and expired or used-up supplies have been replaced.

Consider enrolling in an American Red Cross first-aid course. 

Prepare children in age-appropriate ways for medical situations. There are workshops to teach youngsters how to perform first-aid skills.
In cases of emergency, every home should have a first-aid kit. Make one specifically tailored for your family's needs. To make your own apartment first aid kit, you don't need to invest much money. But, you'll probably have to look beyond the dollar shop for more extensive items. Go to your local pharmacy or grocer to get any last-minute supplies.
Now that you've assembled one for your apartment, make a second first aid kit to keep in your car. You never know when you'll need anything.
You'll also never know when you will be involved in an accident. Of course, you often hope that nothing traumatic will happen to you or members of your household. Still, it's always a great idea to be prepared for common accidents like paper cuts, splinters, and sprained ankles. Having a decent first aid kit organized and ready to use may make life's minor mishaps a lot less stressful.