Ringing in the New Year is always fun if you've got friends and family to spend that time with! Plus, nothing says "Happy New Year!" like planning a party for your friends and loved ones to get together and bring in the New Year all together. 
However, there's a catch: hosting a party is a lot of work! There's a lot of planning, cleaning, food preparation, cleaning, inviting your friends, and cleaning involved, and it can feel overwhelming. But this shouldn't stop you from throwing the best New Year's Eve party that our apartments in St. Joe, MO have ever seen! 
If you're considering hosting a New Year's Eve party this year, then here are some tips you might want to keep in mind:
1. Invite Your Neighbors
It's never a fun time if you're the neighbor to an apartment that's always having parties that you can hear through the walls but are never invited to. What's up with that?
Apartment walls are thin, and if you can hear your neighbor's three a.m. showers through your walls, then they're most definitely going to hear you and your friends playing a loud (and maybe drunken) game of charades in the hours leading up to the ball drop. So before you go and send out all kinds of party invitations, make sure that you clear your party with your neighbors. Better yet, invite your neighbors to attend!
They may not decide to attend, but inviting them along will ensure that you've got a solid set of friends right next door when you need them. Plus, being friends with your neighbors is never a bad thing, especially here in our amazing apartments in St. Joe, MO. 
2. Use All of Your Available Space
When you're in a smaller apartment, even if it's a modern one like the AE Lofts apartments in St. Joe, MO, finding space to host all of your guests can be an issue. This is why you should make the most of your space where you can. 
If you have a lot of bulky furniture that makes it difficult to navigate your space, push it off to the side for the night. Turn your coffee table into a snack station or your kitchen counter into a drinks bar. The possibilities are endless. Just be sure to keep everything out of the way so that no one trips!
3. Hide Your Valuables
We've all seen the typical American teenage movie where there's a party thrown in the cover of night while the parents are out of the house, and something gets destroyed or stolen. That something is typically a priceless vase, or a piece of artwork, a timeless jewelry heirloom, or something similar. But that trope wasn't just pulled out of thin air!
When you're getting ready to host any party – not just a New Year's Eve party – you should hide your valuables before everyone comes over. Anything you're wanting to protect should be tucked away under beds, in cabinets, on the shelves in closets, or anywhere else that you think will be safe from someone knocking into it or otherwise destroying it, even accidentally. After all, one man's treasure is another man's trash… or is that the right saying?
4. Plan for the Cinderella Moment
Have a plan for the big moment! When the clock strikes twelve and everyone begins the drunken chorus of "Auld Laug Syne," you should plan for what happens immediately before and after. Do you know where you're going to watch the ball drop? Any plans for watching the ball drop at all? Are you planning to serve champagne? Are you going through the party with a ruler to make sure all guests are standing at least a foot apart when it's time for the New Year's kiss?
Whatever your plan or tradition may be, you need to be prepared to have it ready to go before the clock strikes midnight. Anticipate finding the TV remote or changing it to the right channel, get the bottle ready to pop, find the glasses to pour the drink into, and more. You won't regret planning that ahead!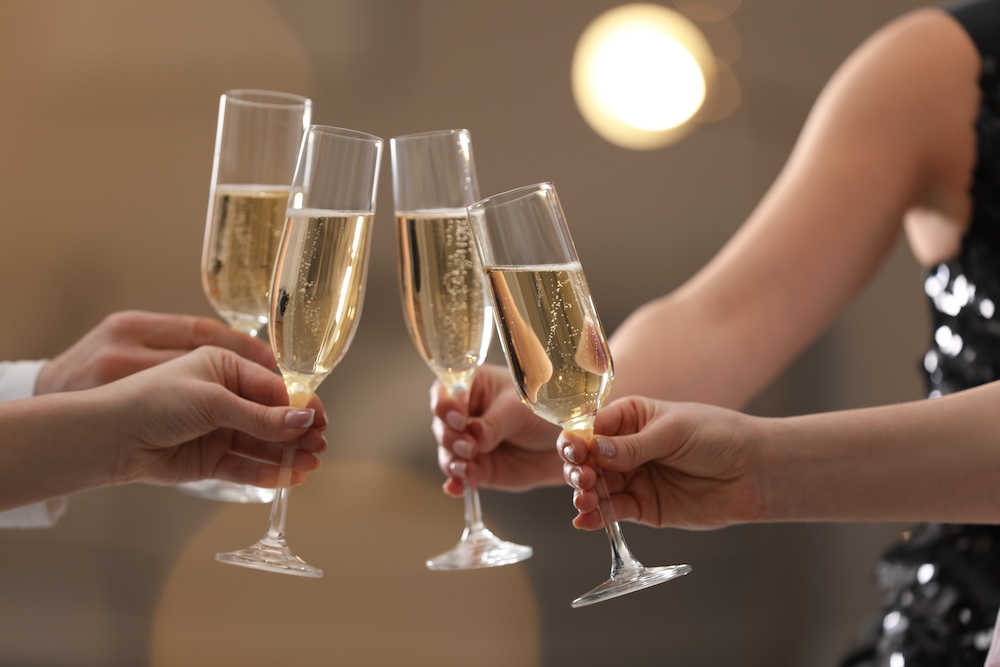 5. Plan How You're Going to Clean Up
The only thing worse than cleaning up after a party is being left alone by all of your party guests to clean up everything after the party. 
Before your party date, figure out a game plan to get everything cleaned up in the quickest and most efficient way possible. If you see a mess while the party is going on, whip out a rag and wipe it up before anything sets in, and you'll pat yourself on the back for it later. Be cognizant of where you place cups, plates, and more. Set out designated areas for your guests to throw away their trash, set down their drinks, and more. 
Plus, you can always recruit some of your friends to help. Offer them brunch complete with hangover-friendly mimosas, and you'll likely have a group of ready and willing friends to help you get things cleaned up and set to rights by the time the last of the guests leave for the night. Just make sure that you've got places for them to sleep!
AE Lofts – Apartments in St. Joe, MO
Our apartments in St. Joe, MO are the perfect place to host your friend group's New Year's Eve party. Our incredible and historic loft-style apartments add the touch of charm that makes a great complement to any decorations. Plus, our on-site parking is ideal for when your guests leave at the end of the night. No need to make the trek a couple blocks down the road to find their cars in the dark!
Finally, the coffee shop on the first floor is an awesome way to entice your friends to stay over and help clean in the morning. If the promise of brunch mimosas doesn't work, then maybe the scent of freshly brewed coffee from the shop downstairs might.
If you want to ring in the New Year with AE Lofts, contact us and schedule a tour today!