Throwing a Christmas party at home seems a little stressful – but worry not! Crank up your party planning, preparation, and clean-up skills with our handy tips.
1.) Create a Checklist
When it comes to planning a holiday party, making detailed checklists comes in handy. Here are some suggestions on things to add and eventually check off:
A menu of meals to make if you're throwing a dinner party.

A checklist of products that must be purchased, as well as a list of additional cutlery and glasses that may be required

.

Make a playlist of good music for the celebration.

 

Areas in your residence that need cleaning

.

Seasonal décor may be added as a personal touch.
Remember, the more organized you are, the simpler it will be to confidently organize your party!
Following the creation of your list, you must now create a Timeline for the Big Day. If you're entertaining the whole family for the holidays in one of the apartments in St. Joe, MO, or throwing a cocktail party for 40, plan out your "run of show" a few days ahead of time. Planning includes everything from when to put the roast in the oven to when to light the candles.
 2.) Choose a Menu and Stock Your Pantry
The food for your forthcoming holiday party should be centered on the sort of event you're hosting. If you're hosting a Christmas dinner, stick to traditional fares like roasted turkey or ham with stuffing, steamed vegetables, and a sweet pie that will make your apartment kitchen smell beautiful. If you're planning a Christmas cookie decorating party, don't forget to stock up on frosting and sprinkles. And if you're having a Friendsgiving at one of your apartments in St. Joe, MO, you're in luck if each visitor brings a favorite dish of their own!
You don't have to make everything for your party guests, such as cheerios for breakfast or a late-night snack. Stock up on tasty nuts, cheeses, jams, and assorted breads to make meal preparation a cinch. Guests will appreciate being able to easily get spoons, napkins, and other party essentials from a handy basket.
In the morning, brew a large pot of coffee and pack your fridge with bottled water and juice so guests can pour their own. If you're good at baking, make different kinds of cookies, cupcakes, and muffins which can be baked a day or two before the party and stored at room temperature.
The most crucial thing anybody can implement to survive the steady influx of Christmas home visitors is to get as much food ready ahead of time as possible. Whether it's freezing and storing soups, buying cookies ready for baking, or getting your Christmas dinners prepared the evening before, you'll be glad you performed the job during a calmer time
If there's one thing better than being welcomed to someone's house for dinner, it's departing with a container full of leftovers! It's easy to over-prepare food as a host, and if your guests bring a dish of handmade deliciousness, there's a high chance you'll have leftovers. Check out the assortment of reusable food containers available online.
3.) Make More Room
It's a good idea to relocate many items from your living room, where you entertain, to your bedroom while preparing your apartment for a party. You want to make the most of the available space in the room where you're entertaining. It would be preferable to have fewer items and more areas for guests to sit or stand comfortably.
Make a designated area for your visitors' belongings; this may seem like a clear guideline for any party, but it's critical when entertaining in a tiny space. To reduce clutter, insist that visitors wear their shoes while attending a party.
It's possible to designate one of your beds as a place for visitors to leave their jackets and bags while you're hosting the event. Consider providing coat racks for your visitors if you're hosting a large Christmas party and don't have any more closet space. This will help keep things organized and allow your party guests to simply get their belongings when it's time to go home.
4.) Set the Mood
Listen up if you're a fan of interior design and jazzing up your loft in the apartments in St. Joe, MO, with accessories over the holidays! Aside from offering delicious food and even better people, the environment of your apartment plays a vital role in the mood of the party. 
Whether you live in a studio apartment or a three-bedroom house, here are a few hacks:
 

Light scented candles with Christmas scent.

 

Use throw pillows for sitting spaces that are soft and fluffy

.

 

Make an iPod playlist of your favorite Christmas tunes and albums.

 

Instead of purchasing pricey speakers, you may use your mobile phone to play music and place it in a ceramic bowl to magnify the sound.

Order a handful of your favorite vinyl albums and play them on a record player for an authentic Christmas homage to the "good old days."

 

String lights and a Christmas tree are, of course, required.
After all, it's the simple details of an apartment that really make it seem like home – particularly around the holidays!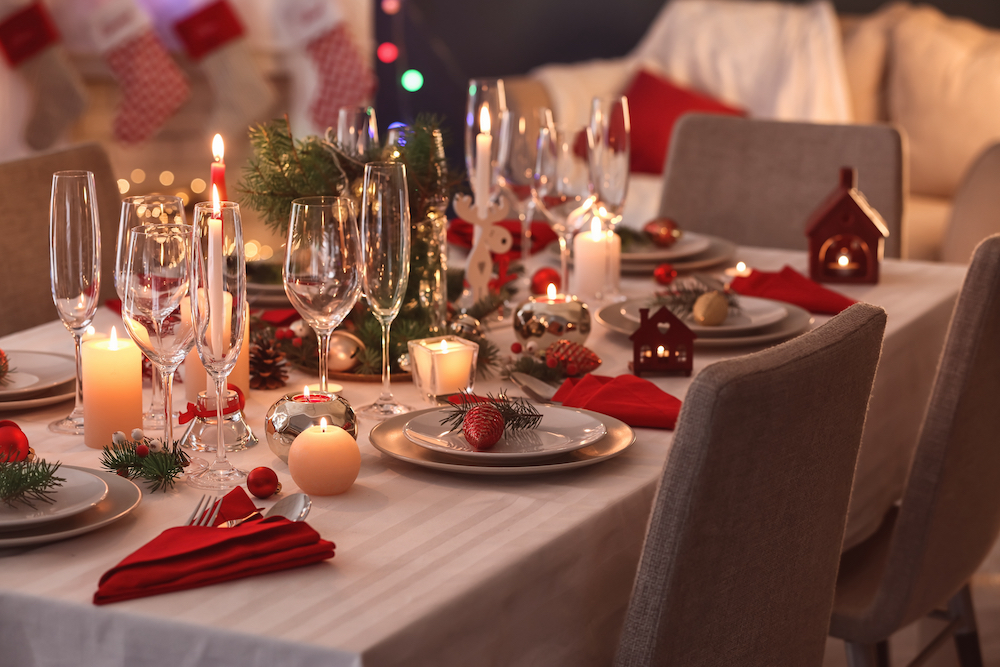 5.) Give Guests a Take-Home Gift
Nothing beats a goody to take home with your guests to remind them of the fantastic time they had at your party. A batch of Christmas sugar cookies frosted in your party's color scheme is an excellent option. Another simple DIY project is to bake a batch of Lemon Blueberry Muffins and package them in transparent cellophane bags tied with a ribbon: You've not only given your guests a lovely celebration, but you've also provided them with breakfast for the next day.
While the holidays are meant to be a time of celebration, many people find them stressful. Before and throughout the madness, make time for yourself. It's okay to unwind whichever way you choose, whether it's by sipping wine or drinking three consecutive shots of tequila. Forgetting to serve an entree or omitting some desserts will not be noticed by your guests. Visitors will feel more at ease if you are at ease.