So you finally found the perfect loft style apartment in the downtown area and you can't wait to decorate it. While you have a good amount of space, you are still worried about it looking too cluttered and want to make sure that you keep things organized. Make the most of your loft style apartment with these fun and helpful organization tips!
 1. Minimize Clutter in the Entryway
When you or a guest first walk into your loft, you want to create a welcoming environment that isn't cluttered and messy. Add some hooks on the wall or a small shelf and create a drop-off zone for coats, bags, keys, and your mail. This also helps for those hectic days when you're running late and when you used to worry about where you left your keys, you know that they will always be there on the hook where you left them.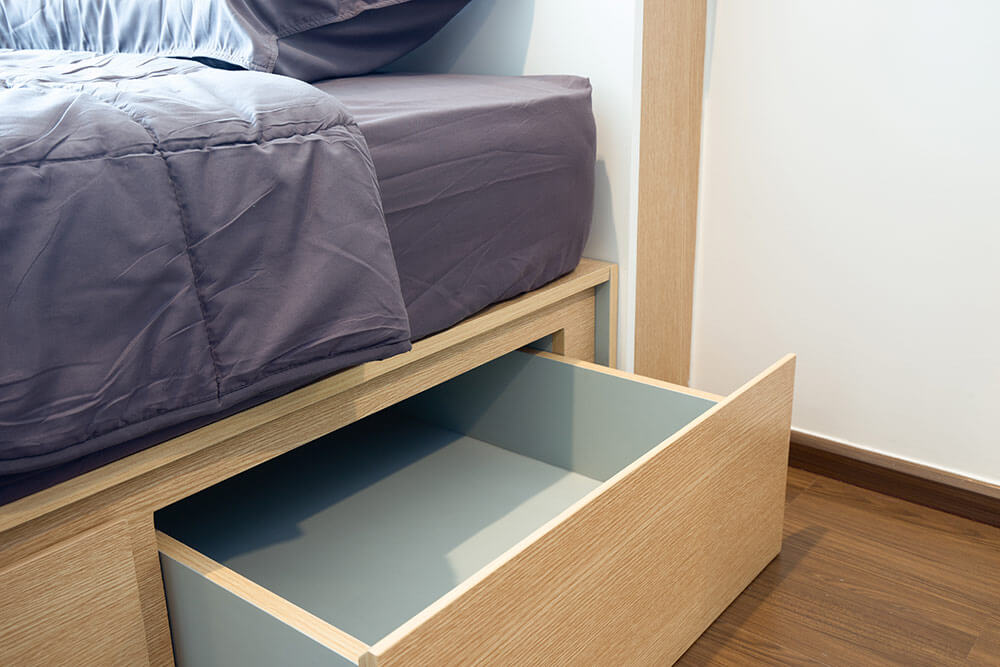 2. Under Bed Storage
Remember the days when you were little and you used to stuff all of your toys under your bed when your parents asked you to clean your room? Well, now that your older, you still want to stuff things under your bed to hide them, but now you can do it in a more organized way that won't leave you frazzled or wondering where you placed your Barbie doll. 
Opt for an ottoman bed that rises and allows for easy storage underneath your bed. This is an ideal place to keep extra bedding, blankets, linens, and towels, especially if you do not have a linen closet.
There are also a variety of other types of under the bed storage options like those with drawers or small cubbies. These are perfect for keeping extra clothes, books, shoes, and more that you want to keep out of the way but like to get to with easy access. 

 3. Over The Bed Storage
Now that we have our storage situation figured out for under the bed, why not utilize the space over your bed. If you don't have a large nightstand or just want to display some nice decorations or candles, hang a shelf above your bed and use it for decorating. You could also keep different things up there and display them in a nice way like books, old CDs, collectibles and much more. 

 4. Storage Headboard
If you are still looking for more storage space in the bedroom or one of the above options doesn't work out for you, you can always go for a storage headboard. These are great for keeping your books, lamps, or even displaying photos of loved ones. Some also have tucked away areas that you can keep things out of sight in case you don't have a nightstand. 

 5. Footboard TV Stand
If you have a small space in your bedroom or maybe you just like to be close to your TV, get a footboard that can double as a TV stand. If you do have a small space, this could help create a small nook for your bed for a cozy, relaxing area to cuddle up with your furry friend and watch Netflix. 

 6. Room Divider With Storage
When it comes to organizing your living room or dining room area and you want to create some sort of divide in the space, try a room divider that can double as storage. Find a unique and artistic looking bookcase that you could use and display your records and books on. Make it fun and keep it interesting and not too cluttered. After all, while we are decorating the space, we don't want to overdo it and make it too messy and overwhelming.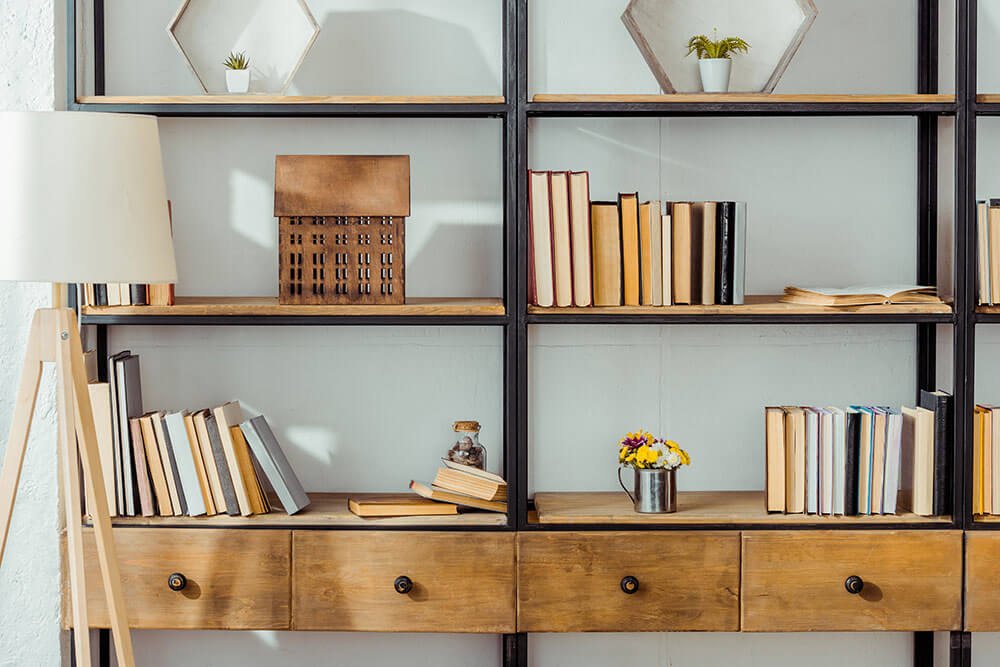 7. Use Your Vertical Space
When it comes to storage and decorating, don't forget about your vertical space. Install shelves on your walls behind the couch to show off your latest photos or family pictures. Or purchase multiple large bookshelves that you could place side by side to create a statement wall with open areas and storage for different decor pieces, photos, books, and more. 
You can also utilize your vertical spaces in your pantry or kitchen area. If you don't have a large pantry and need more space for storing items, create your own pantry with bookcases or floating shelves. 
 8. Door Racks and Hooks
Don't forget about the space behind your doors. Bedroom, bathroom, and closet doors are ideal places to store extra things like coats, towels, jewelry, and hats. You can install racks or hooks or even find other fun ways to store your items to keep them out of sight and organized. 
 9. Ottomans and Footstools
Your living room area should be a clutter-free zone for comfort and relaxation. Use ottomans or footstools that double as storage to tuck away your favorite blankets for a cozy night in. They make great organizers because they also double as a place to sit or kick up your feet. 
 10. Storage Cubbies
Storage cubbies are great to use as dividers or to add some storage to any room in your home. You can keep things like knick-knacks and games that you don't want to keep out stored away or even first aid kits for quick access. 
 11. Corner Areas
Take advantage of the corners in your loft style apartment by adding in a corner shelf or desk. These make for unique areas that can be tucked away and hidden if necessary with an easy to install curtain or divider. Just as you would utilize your vertical space on your wall, why not add a vertical shelf or fun floating corner shelves to add a bit of art and intrigue to an area. 
 12. Use Wall Space to Display Accessories
If you have a ton of fun hats and scarves taking up valuable space in your closet, why not show them off by displaying them on your wall as functional art. Arrange your hats in a pattern on your wall and easily remove one to wear for a day and return it to its place when you get home. 
Elevate your new downtown loft apartment with these fun storage tips and make the most of your new home.