Practicing self-care looks different to everyone. Self-care can be treating yourself to a day out on the town to enjoy your favorite restaurants, going to a movie, or taking yourself shopping. For others, self-care may be enjoying a spa night with a bubble bath, and a pedicure. And still for others, self-care may be just putting on that movie that you haven't watched yet or or catching up on a video game you've been wanting to play.
Whatever self-care looks like to you, there are some things that universally make everyone feel better. Being in a clean space, enjoying a fresh scent, and the feeling of being outdoors cannot be understated. 
At our apartments in Saint Joseph, MO, we want you to be able to feel like you can enjoy a self-care day whenever you want. We want to be the ultimate staycation spot so that you can take care of you, no matter what that looks like.
If you're trying to get into some self-care daily habits, here are some you can start with:
1. Make your bed. Yes, every day.
There are two types of people in this world: those who make their bed every day, and those who let it accumulate into a nest before they do anything about it. Blankets everywhere, pillows on the floor, and only the memory of a made bed for them to fall back on. But did you know that the people who make their beds everyday may be on the right track?
Making your bed is an easy task that can set you up for the rest of the day. It's a way that you can feel accomplished and proud of yourself for something basic that you'll enjoy later on. If making the bed is hard for you every day, try turning this chore into something exciting. Find a bedspread that you love, or cover your bed and stuffed animals and decorative pillows. You'll thank yourself later when you come back home to a tidy and organized bed.
2. Add a touch of the outdoors.
Bringing a little bit of the outdoors inside can be a massive mood booster. Did you know that having plants indoors can actually help you live a happier, healthier life? Plus, many plants help with air pollutants, meaning the more plants you have in your apartment, the cleaner and fresher your air will be.
Don't think that you can't have plants in your apartment because you don't have a green thumb. Start with something small and easy that doesn't require a lot of maintenance. A cactus, succulent, or spider plant would be perfect for someone who thinks they don't have a green thumb. Don't be afraid to fill our apartments in Saint Joseph, MO with plant life!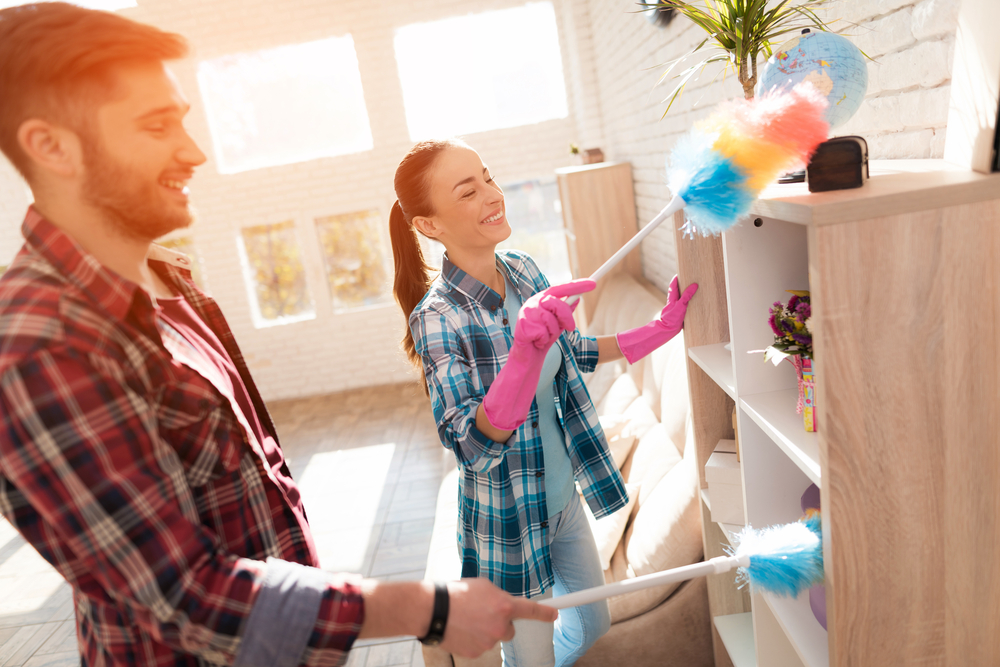 3. Keep your space clean and tidy.
Keeping small spaces clean is a very difficult task, especially in small apartments. Things can begin to look cluttered very quickly if only one or two small things are out of place. That's why it can feel extremely overwhelming to try and clean your apartment after you've let the clutter build up for a while, even though you know having a clean apartment will make you feel better. 
To help yourself tackle the cleaning problem, try making a little schedule for yourself of when to handle what task. Put your clothes away as soon as they come out of the laundry. Hang your coat up as soon as you walk in the door. Put dishes in the dishwasher right away so they don't sit in your sink. And then for the bigger tasks, schedule a day in your week to handle all of that. Only vacuum on certain days, remake your bed on certain days, or dust and mop on certain days. By creating a schedule for yourself, it won't be so overwhelming to take care of your apartment, and you'll be able to come home to a clean and tidy space.
4. Background music is your friend.
Music is a big mood booster, so having background music playing while you go about your day today tasks can really help to elevate your mood. Turn on some music while you're trying to clean, make dinner, or even while you're doing relaxing activities like reading. Background music can increase your productivity and simply make completing your chore list more fun. There's nothing wrong with trying to make chores more fun!
5. Scents and smells can boost the mood. 
Scents can trigger strong memories in your mind, which is why you feel so homesick when you smell a fresh baked cookie or calm when the gentle smoke of a lit fireplace hits you. The same is true about boosting your mood in your apartment.
The right scent can really change the game in making your apartment feel warm and inviting. If you enjoy a bright, clean smell, then defuse some orange and bergamot throughout your apartment. The scent of lavender is calm and soothing, and peppermint can put a little pep in your step. 
Also, consider having a signature scent for your apartment. Because scents can trigger such strong memories, having one single pervading scent in your apartment can cause people to feel warm and invited the moment they step in and smell your signature scent. 
Making Your Home in Our Apartments in Saint Joseph, MO 
Here at our apartments in Saint Joseph, MO, we want you to know that you are our number one priority. We want you to feel happy, secure, and safe, because we know that that's the best kind of self-care we can provide. We hope that our apartments serve as the perfect blank canvas for you to truly express yourself and give yourself the self-care you need.
If you're interested in seeing what AE Lofts can bring to the table, contact us and schedule a tour today.