Are you struggling to keep your laundry space clutter-free and organized? We often neglect this place and treat it as a dumping site. Sometimes, all it takes is to create an organizing system that fits your lifestyle. Keep in mind that each part of the house deserves to be cleaned and organized correctly. After taking time with this area, you will be surprised by the results.
With that in mind, we listed organizational tips and tricks to transform your laundry room into an inspiring and clutter-free space. Here's how you can amplify your loft style apartment laundry space into a neat and convenient place to do a household chore.
1. Create a Schedule for Cleaning Your Laundry Area
Who does not want a well-organized and clutter-free laundry space? Cleaning the laundry room can be a daunting task. To ensure that you maintain cleanliness, create a schedule. Cleaning does not need to be every day.
Wipe the washers, dryers, and cabinets first. Rub the walls to remove specks of dirt and debris. After that, you can sweep and vacuum the area. Through these tips, you can significantly improve the ambiance. Take note that after laundry, make sure to dry the area.
2. Utilize Each Corner of the Dedicated Laundry Space
If you have a small space, like that in a loft style apartment, usually for a laundry room you need to get more creative. It means that you should start using multipurpose or wall-mounted storage cabinets to free up space. Also, you can create a better system by installing this type of cabinet.
More than that, the laundry operation should not hamper your regular home routine. Make sure to use every square inch of the room in a fashionable and organized way. You could even add an extra cabinet to help create more storage space – a bonus if your shelves have hooks and racks. This will allow you to dry and hang clothes efficiently.
Whether your washing machine or dryer is placed in a spacious area, take note that you should utilize every centimeter of your laundry space.
3. Hide Your Laundry Cleaning Products
Do your cleaning supplies and clothes clutter the laundry space? Well, you are not alone. Cleaning supplies always consume a vast area in any laundry room. That's why one of the best ways to get your space organized is to hide the cleaning supplies. It would be best to store them inside a cabinet so that your room will not look messy.
First, you should identify if there are any outdated products in the laundry area. Dispose of these cleaning products, as well as the products you don't use anymore. Next, retain the supplies you need. Stock everything neatly inside the bin or cupboard.
4. Invest in Durable Laundry Bins or Baskets
Keep your laundry clothes organized by placing a basket where you can put your clothes. For instance, you can designate a bin where family members can put their dark or light-colored laundries. Discourage them from placing their dirty clothes everywhere. Also, you can use bins to organize cleaning products and tools. Additional storage can help you see the items you need quickly.
5. Conceal with Curtains
Curtains—your companion in organizing your laundry room and hiding imperfections. By simply hanging a neutral-colored curtain, you can hide your washer and dryer. It can completely transform your space. We also suggest that you stick to one color palette with different tones. This method will help make the area more streamlined.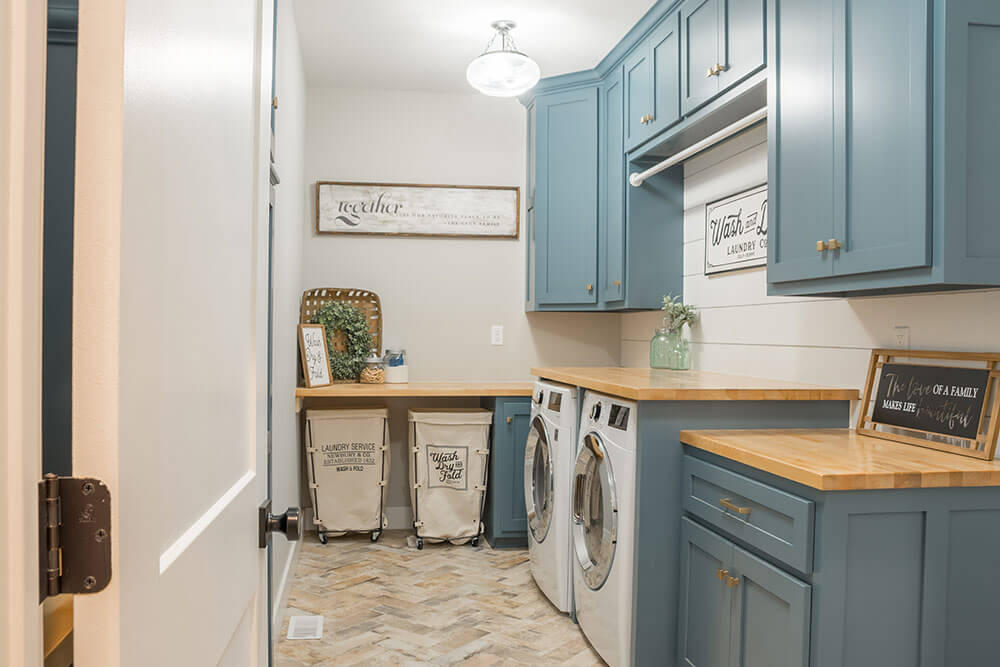 6. Spice It Up Through Decorative Pieces
Just because it is a laundry room does not mean that it should be boring. Don't allow yourself to hate the space because you need to do a chore. Incorporate decorative pieces or artworks. Placing a tapestry or creating a gallery wall above your washer and dryer can inspire you to do the laundry.
You can also put fresh flowers on the shelves. Another minimalist technique you can integrate is placing your detergents inside a transparent mason jar with a label on it. Decorating the room can improve the overall look of the laundry space in your loft style apartment.
7. Smart Hanging Storage
With a little space for the laundry area, sometimes there is no place to keep our cleaning products. Don't fret and be creative. Although we have limited floor space, there is plenty of wall space to occupy. Maximize it by using storages that can be attached to the wall, such as hanging baskets, wall mounting storages, hooks or brackets. Through this, you create more storage for your clothes and cleaning supplies.
8. Optimize The Exterior Features of Washer and Dryer
It would be best to keep the mess away if we create a system while doing the laundry. Place a holder beside the machine where anything you need is within your reach. You can also put a basket for the dry and wet clothes. This way, you won't go around all over the place looking for an item.
9. Build a Storage Island
We can't emphasize enough how essential it is to create a place for storage. More than that, To keep large and unattractive laundry baskets on the ground, build one site for a storage island within the laundry room. You can place baskets for laundry loads in that storage island and incorporate a folding area for clothes.
10. Create a Basket for Lost and Found Laundry Items
Have you ever wondered where that one pair of socks is? Whether you like it or not, it's always a mystery why some clothes go missing. Sometimes, you ask yourself how you lost stuff. To ensure that it is not in someone else's cabinets, make a place for all the things you lost and found. This will help you not to lose the clothes that you need.
Keep the Laundry Space Neat
There are plenty of ways to turn your laundry space into an ideal place. Doing the laundry can be tiring and daunting. But spicing it up and keeping it organized can motivate you to accomplish your chore. With a systematic storage organization, you can transform your laundry space in your loft style apartment with a few easy steps.